Acorns Investment Advisor
Advantage
Automatically invests the spare change
Cashback at select retailers
Educational content available
No account minimum
Disadvantage
High fee for people with low balance
Acorns: A Reliable Investment Advisor That Can Help Your Money Grow Fast
Founded by Walter and Jeff Cruttenden and launched in 2014, Acorns has embarked on a relentless attempt to make investing accessible to everyone, even those who have no intention of becoming investors. Starting as an American financial technology and financial services company, Acorns has won the million customers' affection with their sage advice on stock and share investment. Their automatic and simplified investment model proves helpful to many investors, no matter how much they have to invest.
In addition to the website interface, the company also provides the Acorn Investing App for greater versatility. The Acorn Investing App's design is intuitive and is full of educational content, which makes it an instant favorite of new and inexperienced investors. However, its flat-fee model can be a bit expensive for those who just learn to invest and have a small balance account. Our following Acorns Investment Review will detail the pros and cons of this outstanding financial company to help you have a more comprehensive understanding of investment choices.
How Acorns works
Acorns works on two platforms so you can choose either of them: mobile Acorn Investing App and website. Both platforms have gained much popularity and earned various awards for their attractive and intuitive design. To open an Acorn Savings Account and kickstart your investment plan, you will need to fill in personal information regarding your bank account, financial goals, risk preferences, etc.
Depending on your risk tolerance and time goal, Acorns will allocate your money to one out of five prebuilt portfolios containing thousands of Acorns stocks and bonds: conservative, moderately conservative, moderate, moderately aggressive, or aggressive. If you are willing to take greater risk for a longer time, Acorns will direct you towards investment plans with greater risks and higher return potential.
What makes Acorns remarkable
Microsaving solution
Acorns is suitable for those who struggle to save money since it works as a micro-saving tool with automatic algorithms for portfolio management. Microsaving means you can save a micro amount of money. Using an Acorn Savings Account linked to an investment portfolio, Acorns can round-up change nearest to $1 from every purchase and allow you to choose whether to move that change to an investment portfolio or not. For instance, if you spend $4.5 buying a hat, Acorns will round up that purchase to $5 and transfer the remaining $0.5 to your portfolio via your linked account.
You can use this feature automatically or manually; it all depends on your preference. The latter option requires you to go through recent purchases and decide which category you want to round up. All you need to do first is link your credit card and checking account, and Acorns will take care of the rest. And since you spend only pennies at a time, you can avoid mulling over your decisions to invest for too long. Some people might think that this spare change is too small of an investment, but the bottom line is that all of these small amounts will add up over time. The ability to microsave and round-up change makes Acorns an ideal choice for the young generation with money-saving problems, so it's a cherry on top of Acorns.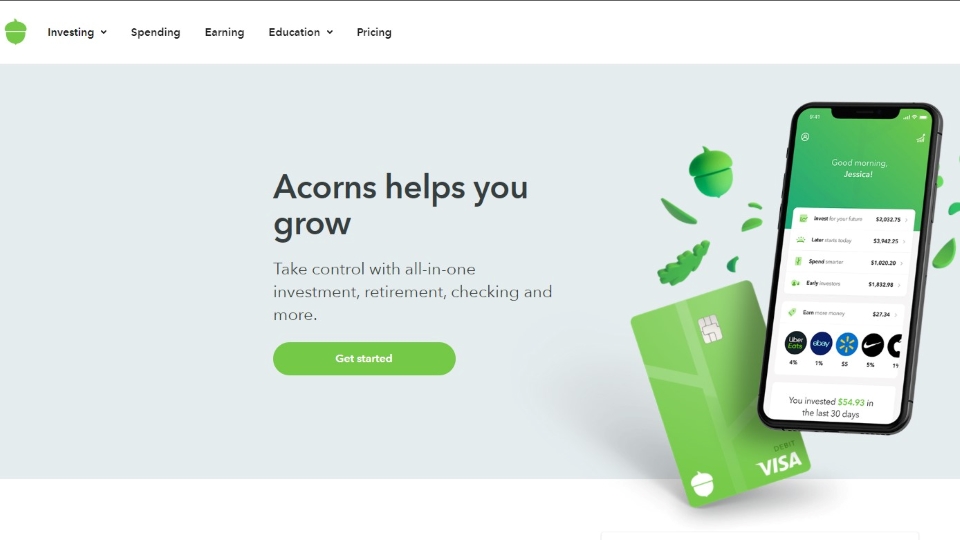 Acorns Investment Reviews by TopFreeReviews
No investment limit
As said, Acorns enables you to save a micro amount of money, so there is no limit to the money you can invest. You can invest $1 or $1.000.000. It's up to you! That's why we think Acorns can be in the interest of younger people who do not own much money to invest a lump sum but still want to make their saving money grow.
Educational content
Both the Acorn Investing App and website can help new investors a lot in getting to know investment stuff. Acorns will guide you through every term you need to know with their clear and simple language. They also have an online personal site named Grow Magazine that gravitates towards millennials. This website provides them with information about student loans, credit card debt, and other topics that facilitate their academic investment.
Transparent spending plans
Acorns bundle their products into subscription tiers that support your financial wealth in versatile ways. They offer you three subscription options: Lite, Personal, and Family.
Lite
The first option is suitable for those who are new to investing and want to invest a small amount at a time. You can also set Recurring Investments and achieve more thanks to an easy and automated investment account.
Personal
The Personal option entitles you to such features as all-in-one investment, retirement, and checking, plus a metal debit card, bonus investments, money advice, and more. You are required to pay $3 per month if you opt for this option.
Family
The Family package allows you to open personal investment retirement, investment accounts for kids, checking accounts and provides you with exclusive offers and content. Acorn investment packages are straightforward and fall into clear-cut categories, which helps you find out which investment option is most suited to your budget and financial goals.
What you should notice when using Acorns
Although $1, $3, and $5 sounds cheap for a monthly management fee, it can turn out to be a considerable sum at the end of a year. The high fee for account management can be a setback for those with small balances. Also, if you want to move out of Acorns and switch to another investment advisor, you will need to pay a substantial amount for that service.
Should you entrust your money on Acorns
Acorns is a legitimate investment company that is trusted by many celebrities such as Ashton Kutcher, Jeniffer Lopez, Dwayne Johnson, Dany Garica, etc. Hence, you can feel safe when investing in Acorns. There are a few setbacks regarding management and transfer fees of which we think Acorns fall short, but overall, Acorn is an investment source that deserves to be your top pick whenever you want to make your money grow fast and strong. We hope that our Acorn Finance Reviews provides you a thing or two about this outstanding investment advisor, thereby assisting you in making a wise investment decision.