Intex® 15ft X 48in Easy Set Inflatable Pool
Advantage
Simple set up, as little as 15 minutes (no more than an hour)
Easy assembly and very lightweight
Great for those with limited space in their yard
A great choice for those on a tight budget, low cost makes this pool very affordable
Disadvantage
Not as sturdy as Metal Frame and Ultra Frame models
Pool pump and filter on the smaller pools is fairly basic (larger pools come with different pump and filter)
Must-Have Intex® Easy Set® Inflatable Pool This Summer
This summer, instead of going to the beach or going to polluted public swimming pools with many risks of disease, why don't you choose a convenient and smart swimming pool for your own garden space? This article will review the Intex® Easy Set® inflatable pool - the most popular European quality swimming pool this summer.
Intex focuses on family time and product quality and value. Inspired by the memories created by users, Intex products are built to last at an affordable price. For many years, this company has been distributing above-ground swimming pools, air mattresses, toys, boats, furniture, and more. Intex, with over 50 years of history, is part of a large family of companies worldwide. Intex's goal is to create comfort, safety, and enjoyment by providing the highest quality products at affordable prices. This brand prides itself on bringing you products with outstanding quality and impeccable customer service. To be the most recognizable trusted, and innovative company in the industry is Intex's vision. To ensure that products launched to the market meet Intex's enhanced standards for quality, safety, and value, this prestigious brand regularly tests the finished products rigorously. One of the factors that make us endorse Intex is its commitment to reducing its carbon footprint. Intex is not only responsible to customers but also contributes to environmental protection. For over 10 years, they have worked with suppliers to reduce the number of fossil fuels used in production and distribution.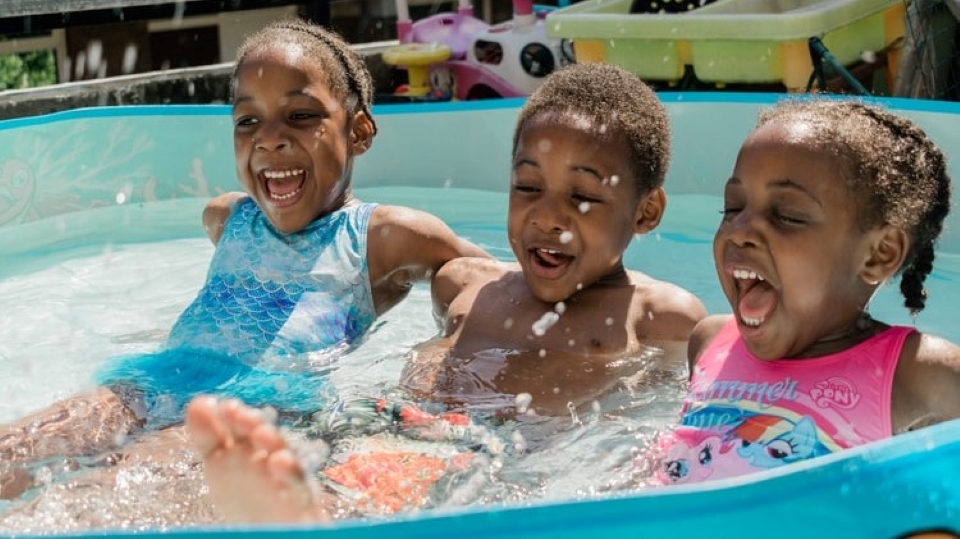 Intex® Easy Set® Inflatable Pool 15ft x 48in
Advantages of Intex® Easy Set® inflatable pool
Convenience
Intex® Easy Set® inflatable pool belongs to the line of large inflatable swimming pools suitable for 4-5 people including children and adults, which can be used together. Intex® Easy Set® inflatable pool has a completely different design from the children's inflatable pool. It will take you a lot of time to inflate the baby inflatable pool while with the Intex® Easy Set® inflatable pool, you only need to inflate the neck of the pool. When the water begins to be pumped into the pool, the neck will gradually rise and raise the height of the pool. The body of the swimming pool is made from extremely strong PVC, withstands great water pressure.
Modern technology
This Intex® Easy Set® pool will keep your backyard cool so your family can relax and have fun all summer. Enjoy a refreshing summer with your family and children with an inflatable pool without worrying about complicated installation or needing a large cough area to store. The cartridge filter pump is equipped with Hydro Aeration® Technology which improves water clarity and circulation and filtration while increasing negative ions at the water surface. The pool also features an easy-to-install Krystal Clear™ 110-120 volt cartridge filter pump. Customers simply attach the hose and start enjoying clean water. In addition to the electrical equipment, the Intex inflatable pool also includes a base fabric, a pool cover, and a pool ladder. With just a few simple steps in about 15 minutes: spread on flat ground, inflate and fill the pool with water, you have an instant pool filled with fun.
Simple design
You and the whole family will be able to enjoy the summer at home in comfort and relaxation with this extremely spacious float tank. The outstanding feature of the Intex® Easy Set® inflatable pool is its round shape. It helps all members can easily lean on the edge of the tank and have fun together. In addition, this design helps to reduce the risk of injury to children compared to conventional framed swimming pools. If your garden has a relatively large area, this is the most appropriate choice.
Develop children's vivacity
You will not have to wonder and worry every time it takes a lot of time to move to the swimming pool away from home and sometimes those swimming pools are crowded and not clean. When not in use, it is completely collapsible and takes up only a very small space in your warehouse. The float pool is not only used for bathing in the summer, but you can also turn it into a ball house with a slide for children to enjoy at home without having to go to the outstanding play areas. In addition, you can also refer to more water toys such as water guns, toys in the shape of animals that can swim in the water, bubble guns, ... to diversify interesting activities with water. We recommend that you equip your child with appropriate swim goggles, floats, and swimwear so that all activities are as safe and comfortable as possible. Enjoy moments of relaxation with your family without having to go far with the Intex® Easy Set® inflatable pool!