Arctic Zone Power Pack Lunch Pack with Food Container
Advantage
Insulated lunch pack
High-density thermal insulation
Ultra Safe® easy clean lining with Microban®
Easy access, pull-down garage door
Two compartments
Arctic Zone Power Pack Lunch Pack with Food Container Reviews: Enjoy A Delicious Lunch
Products from top brands
During a busy day, you should prepare a packed lunch to replenish nutrients during the break from work. It's healthier, more affordable, and a time saver than eating out. Lunch boxes should be easy to clean, easy to carry, durable, and have enough capacity to hold the right amount of food to satisfy your cravings. Arctic Zone Power Pack Lunch Pack with Food Container makes a meal feel like a pleasure rather than an obligation.
While they can be used by anyone, we'll also have a guide to the best lunch boxes for middle schoolers. Thoughtful design elements make the container easier to eat and feel more like a dish than a container, including rounded corners. The distinction between "what is a container" and "what is a lunch box" is not always clear because many people prefer to use regular plastic or glass containers to transport their lunches to and from. Arctic Zone Lunch Bag is designed with two compartments, double closure, and a BPA-free food container that fits inside.
This design allows the user to keep drinks separate from food or hard foods separate from soft foods. Users can fold the lid down for lighter loads with dual closures or use the zipper for extra capacity. Internally placed high-density insulating lining helps keep contents cool and fresh. Ultra-safe Microban® helps make linings easier to clean, protects against odors and stains caused by bacteria. Externally, the Arctic Zone Power Pack Lunch Pack includes a padded handle with Swing Clip™ so users can easily attach it to backpacks and briefcases.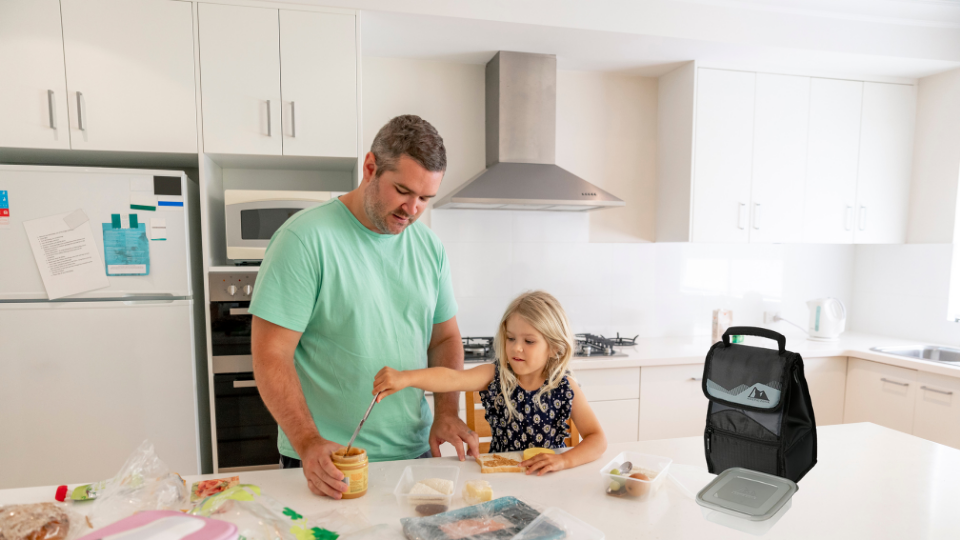 Arctic Zone Power Pack Lunch Pack with Food Container Review By TopFreeReviews
Little did California Innovations know in 1986 that they would become the market leader in soft-sided coolers and lunch boxes when they founded the brand. In 2005, they acquired Arctic Zone - which provided them with even more talent and wisdom. During that time, innovation and quality have always been the founding principles that they steadfastly adhere to.
California Innovations' passion for innovation is what defines this brand. California Innovations prides itself on holding multiple design and utility patents and bringing new ideas to market faster than any of its competitors. To ensure that they meet manufacturer standards and consumer needs, California Innovations products are consumer researched and rigorously tested.
How we picked and tested
Over the years, based on the type of meal you want to pack, we've found that what's best for you can change from day to day because lunch containers come in all shapes, sizes, styles, and materials. What you want to pack and whether you have access to the refrigerator can influence whether you choose a lunch box, lunch bowl, or insulated lunch box. The very different categories each have their own criteria.
Both lunch packs and lunch bowls must have multiple compartments to pack the different ingredients of the meal. The partitions between the compartments proved useful in preventing food from mixing together. Our test team tested the adjustable straps and handles to determine how comfortable the bag is to hold. The ease of sealing containers and their sturdiness during a long commute to work or when stowed into a bag is among our top concerns.
Our test team members took turns filling plastic containers with water and ketchup and shaking them at different angles to check for leaks. We dropped the Arctic Zone Lunch Box from waist height onto the asphalt to test its durability. We then proceeded to pour half a cup of soy sauce or ketchup into all the containers and bags and leave them overnight before attempting to clean them to test for stain resistance.
Maybe it's time to buy a new one if your lunch box is frayed at the seams or is starting to smell less fresh or is mushy or scratched. However, you can also get Arctic Zone Power Pack Lunch Pack with Food Container with its sturdy design and compartmentalization that suits your needs. Arctic Zone Power Pack Lunch Pack with Food Container we tested in 2021 is popular on e-commerce platforms because it looks like an accessory.
Finally, we would like to state that your choice of lunch box depends on what you eat that day and your storage needs. To keep meals like sandwiches or pasta salad containers cold, you just need a small lunchbox. The larger lunch pack can hold enough food for one meal, as well as plenty of snacks and drinks to consume throughout the day. Arctic Zone Lunch Pack with Food Container is ideal for keeping different portions of your lunch from getting mixed up if you're packing a lot of prepared dishes.
Your salad will stay crispy if you use a spacious lunch bowl with a separate sauce container. This type of box will allow users to add different elements to their meals right before serving to keep things fresh and vibrant, like crunchy nuts for salads or parmesan pieces for pasta. You may also want to add some smaller containers to your lunch box. These boxes will even fit inside your large and small lunchboxes. These are useful in separate packaging of components that you will combine later.
We hope our Arctic Zone Lunch Box Reviews are useful to you!