BLACK+DECKER 34oz Citrus Juicer
Advantage
Clear-view juice container
Easy-to-read measurements
Molded pour spout for easy pour, don't pour out
Dishwasher-safe
User-friendly design
BLACK+DECKER 34oz Citrus Juicer - A Great Helper In Your Kitchen
Features we highly appreciate
You like refreshing citrus drinks, have you found the right juicer yet? Have you ever heard of BLACK+DECKER 34oz Citrus Juicer? Black + Decker is an industry leader in the production of kitchen appliances and, of course, they specialize in providing the best selection on the market you can buy. Many times searching for the best citrus juicer online, we see a lot of Black and Decker citrus juicer reviews because we are attracted by the benefits it brings to users.
The Black and Decker 34oz citrus juicer, aka Black & Decker CJ625, is equipped with a powerful motor to turn a bag of your lemon, orange, etc. to fresh and nutritious juice with ease. The two juicer cones automatically reverse to handle different sized fruits, ensuring maximum juice extraction. The design and construction of this product is also very impressive as it has a cord storage to keep the cords neat and uncluttered when not in use. The Black & Decker citrus juicer CJ625 is a compact and portable option that fits most countertops comfortably. And sure, it doesn't take up much of your kitchen space.
This model also comes with a transparent container for the juice, allowing us to see how much juice is being squeezed by the device. There are clearly printed, legible measurement marks on the container, helping us eliminate the amount of guesswork required for juice recipes. When we poured juice from the container into the glass, the spout design allowed us to pour easily and without spilling. One of our colleagues said she asked her 9-year-old son to pour juice from the juice machine into glasses for family members and he did an excellent job. Not a single drop of water spilled out and the boy jumped for joy because he was able to help his mother. Another convenient feature is the carrying case with a handy storage lid, which protects the citrus juices inside from dust.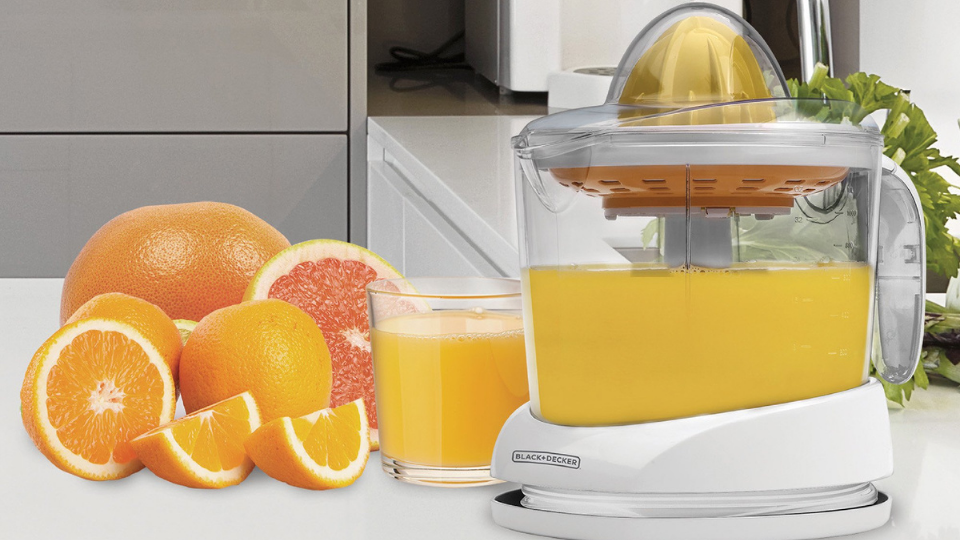 BLACK+DECKER 34oz Citrus Juicer Review By TopFreeReviews
During our testing, we found the Black and Decker juicer machine had an adjustable pulp control that worked very well. We could completely adjust and control the juicing process as well as choose the amount of pulp in the juice. Again, most juicing makers come with pulp buckets, but the pulp control of this Black and Decker electric citrus juice seems to work better. Rarely have we seen this device clogged with lemon seeds, orange seeds, or fruit pulp. And we also don't want this to happen often so we can juice our citrus without interruption. We reviewed many other brands in the same field, but some of them trap seeds and pulp in the filter, preventing juice from entering the container. This took us a lot of time to regularly clean the filter, but we never experienced this problem with Black + Decker product.
Juice quality
We use Black+Decker 34oz citrus juicer to juice a variety of fruits, from lemons, limes, to oranges. On the first try, we set this juicer to a low pulp setting and pressed 3 limes. After we finished, we poured the lemon juice through a sieve but there was almost no pulp. We continued the process with 2 medium sized lemons and set at the highest yield, it gave them 150ml lemon juice. When we examined the lemons, we found that the machine had already squeezed out all the necessary lemon juice. Black + Decker performance also didn't drop as we continued with the oranges. Due to the powerful construction and motor along with the self-reversing function of the 2 cones, the Black and Decker electric citrus juicer produces delicious fruit juices and great taste. There are some who say that the auto-reverse function can affect the amount of juice produced, but most Black and Decker citrus juicer reviews agree the feature makes it more efficient.
One thing we see the Black & Decker CJ625 should improve on is the noise level. But we think this is a common problem for citrus juicers as most of the models we tested were quite noisy to use. We regularly use this product as a Black and Decker lemon squeezer to quickly and comfortably enjoy cool glasses of lemonade on hot days. There are many types of citrus juicers with diverse models and sizes recently, but Black + Decker always keep their own class. It has simply put together everything you need in a citrus juicer: good quality and cheap price. You can comfortably and quickly squeeze your favorite citrus fruits and recharge for the new day with fresh and healthy drinks. And this is why customers always trust Black + Decker.