Cavaliere-Euro 30W in. Under Cabinet Range Hood
Advantage
Powerful and compact design
Stainless steel construction makes it durable and long-lasting
Easy to operate
Ultra-quiet dual squirrel cage motor
Dishwasher safe fitters
A touch sensitive keypad
Cavaliere-Euro 30W in. Under Cabinet Range Hood - A Pre-Eminent Appliance In Modern Households
You need a range hood in your kitchen, no matter if you are buying one for the first time or replacing an old model, you must do your research to make the right decision. Cavaliere-Euro 30W in. The Under Cabinet Range Hood is one of our favorites for its extra features, reasonable size, and excellent extra options. If you are also interested in this brand, you will also see a lot of Cavaliere range hood reviews that talk about the great benefits this device has to offer. Our article will help you better visualize the Cavaliere 30 inch range hood before making your final decision.
How we experienced
Our product testing team checked 25 hoods from different brands, and then narrowed the list down to four strong contenders for best range hoods, including the Cavaliere-Euro 30W in . Under Cabinet Range Hood. This appliance, aka called Cavaliere AP238 according to its model, is renowned for its eye-catching design, quiet operation, durability, as well as powerful motor to get the job done in the kitchen. According to the manufacturer, this hood can provide a maximum air flow of 900 CFM and is suitable for heavy duty cooking. During the testing period, we installed the device at all 4 speed levels to see its operating capacity and checked for noise. We found it to be very quiet at low settings, and its sound increased every time we cranked the level up higher. However, the noise level that this device emits does not affect our conversations and exchanges in the kitchen.
As a range hood with advanced technology, the Cavaliere range hood features an electronic LCD touch screen in the center. We found this location to be very visible and convenient for the setting adjustment process. When starting the machine, this part of the screen would light up for us to choose the setting level we want. In the range of hoods, this Cavaliere is relatively inexpensive but it still offers the high-end features we're used to finding in more expensive models. The touch screen also allows us to adjust the brightness of the two 35 watt halogen lights so as not to dazzle or affect the aesthetics of the dish.
We agree that the filter is among the most important parts of any range hood. The Cavaliere under cabinet range hood uses a baffle filter made of stainless steel, which is very durable and easy to clean. This unit has the function of keeping the kitchen environment clean and healthy by removing all smoke, odors, grease, or other dirt that interfere with the cooking process. Made of good material, we could clean the filter effortlessly. What surprised us even more was that the filter was safe when we put it in the dishwasher for cleaning.
Have you ever used a device that automatically powers off when you forget to turn it off? The truth is that the Cavaliere AP238 took us from surprise to surprise throughout our testing. The auto shut-off feature of this appliance can be programmed from one to 15 minutes, plus, it even reminds us when it needs to be cleaned with a 30-hour cleaning reminder feature.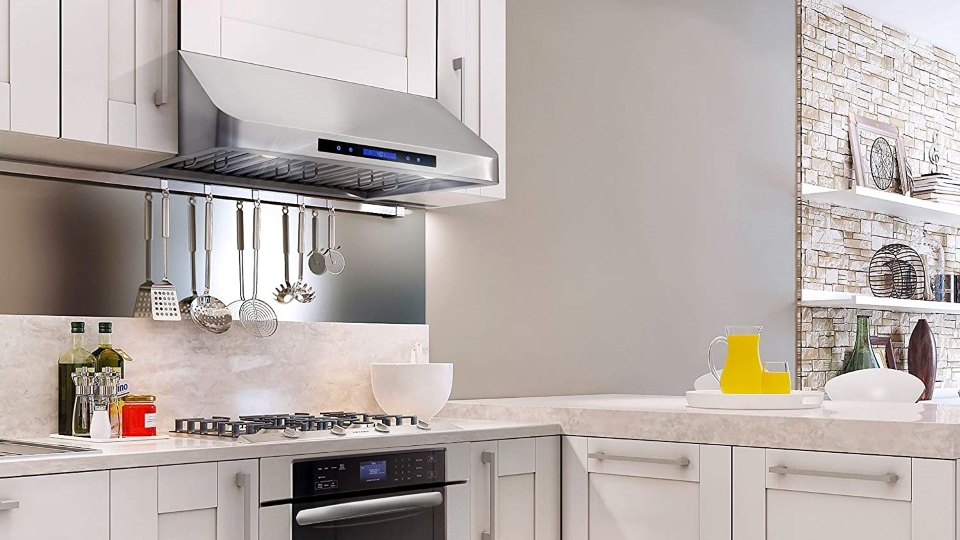 Cavaliere-Euro 30W in. Under Cabinet Range Hood Review By TopFreeReviews
Cavaliere - A brand you can trust
Cavaliere is really a dependable hood brand in the market. We appreciate the design and features that the Cavaliere-Euro 30W in. Under Cabinet Range Hood offers and encourages everyone to choose this device for their kitchen. Whether this is your first time buying a range hood for your kitchen or you're buying to replace an old model, the Cavaliere AP238 are here for you. Listed among the best rated range hoods, this Cavaliere range is incredibly convenient with its built-in timer option. If you frequently forget to turn off the hood in your kitchen and leave it running longer than it should, increasing your electric bill, then this is a must-have feature for you.
The display of the hood is usually illuminated so that you can easily adjust the different settings. We affirm that it is very bright and easy to see, especially in dark spaces. The light it emits is blue light, which we felt a little glare at times, but that's not a problem often. We do not deny the noise that the Cavaliere range hood emits when operating at high power. But the noise levels are greatly improved when you set them to lower levels, and they don't affect your loved one in the next room. Finally, the filters that Cavaliere uses for this device are made of stainless steel material, preventing them from falling apart when you try to remove and wash them.
We hope that after reading our Cavaliere range hood review, you have found the best ventilation hood for you.