eFax
Advantage
No fax machine required
Local, toll-free, and international numbers available
Fax online from anywhere using your computer, tablet, or smartphone
Support online signatures
Disadvantage
Dated interface
Expensive
eFax: A Fond Farewell To Traditional Fax Machine
The world is entering the digital era, signaling a tectonic shift in the way we lead our lives. Faxing online services is part of this digital shift. With faxing online service, you don't need to buy a bulky fax machine that takes up too much space in your house. You can do everything like sending and receiving faxes online instead of struggling with a physical fax machine.
The title as the industry-leading supplier of online faxing services goes to eFax. With the variety of functions it offers, it's easy to see why eFax is the ultimate faxing service adored by millions of customers worldwide. This article will provide you with unbiased eFax Services Reviews and an overview of what you can do with this incredible service.
What we love about eFax
Various faxing options
eFax allows you to send and receive a fax via three sources: email, eFax online, or your eFax account. Regarding the first source, you first need to compose a new email and address it to the recipient's fax number followed by @eFaxsend.com. Whether you want to attach cover letters is optional, but you need to enter the subject line and message into the body of an email. You can attach up to 10 files and click Send to transfer your fax to the recipient. eFax can work with 170 formats such as PDF, DOCS, etc. so that you don't have to worry about any compatibility issues.
To send a fax via the eFax online, you need to log into the app or an eFax account portal. After that, you fill out a form and attach any file you want to the box. Once you're done with choosing the file you'd like to send, hit the Send button. To check and read received faxes, you can hit on the received faxes in your inbox.
The third way to use eFax is to use your eFax account. The first step you need to take is to access the address eFax.com/login. Then you log in to this website via your eFax MyAccount and select Send Faxes. You need to fill out a form that contains the recipient's address and the subject for your fax. The website also allows you to attach up to 10 files for one Send and all you need to do after choosing the desired files is to hit the Send Fax. We love how you can send and receive a fax in various ways because it means you can choose any method that suits you at any moment.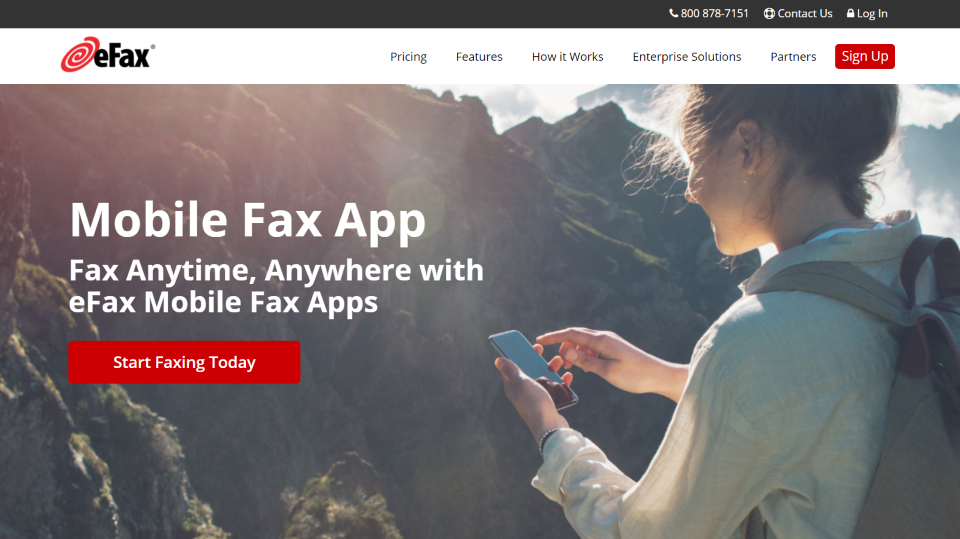 eFax Online Fax Service Review by TopFreeReviews
Electronic Signatures
Another utility that eFax provides is electronic signatures. There are two convenient signing options available for you: you can swipe your finger across the screen to sign your faxes online or drag and drop an available signature onto your document.
Ultimate safe process
One concern that bothers most people when using online faxing services is security. However, eFax can eliminate this concern with its enhanced security system. When you activate Enhanced Security, you will not receive your email inbox directly. Inbound faxes are encrypted and hosted on a secure site so that you can download confidential faxes effortlessly and safely.
Amazing service team
What makes people want to come back to eFax all the time is the eFax services. With a customer service team working 24/7, you can rest assured that any inquiry or question you have with the eFax faxing service will be solved at a short notice. You can chat, call, or get an online ticket to receive support from the award-winning service of eFax.
What eFax could improve?
Overall, we love this eFax customer service, but we do think there is still room for eFax improvement. The first aspect we are not satisfied with eFax is its interface. eFax's interface is quite dated and not intuitive enough for new users. And to whomever who asks: Is free eFax service, then we have to reply with a sad No. In contrast to being free, the eFax pricing is quite expensive compared to other competitors. If you do not use this service to its full potential, it can be a waste of money paying for eFax. But if you have to deal with online faxes often, we guarantee eFax is one of the best options.
Our final verdict
eFax is beautifully flawed, but its flaws are by no means dealbreakers, given that it gives you many features and functions that you cannot find in a physical faxing machine or other online faxing services. We like to recommend it to anyone who has to deal with send and receive faxes often because they are the customers who can benefit most from this high-quality service.