GetResponse
Advantage
Grow your audience
Engage with customers
Sell your knowledge
Boost online sales
Personalized tools for your own needs, for Entrepreneur, Marketer, Marketing Manager, Large companies
Disadvantage
Marketing automation only for higher-tier plan
GetResponse - An Unbeatable All-In-One Marketing Tool For Businesses
We're surrounded by a sea of marketing and advertising technologies, all of which seem to do the same thing as the other. When it comes to email marketing software, one name that springs to mind is GetResponse. It's among those marketing and advertising platforms that have been around for a while and continues to provide the best programs year after year.
GetResponse is among the easiest and most user-friendly newsletter software on the market. To fulfill the expectations of worldwide clients, the company has been expanding its team and adding useful features, such as GetResponse Landing Page, Email Marketing, and much more. Many globally small and large enterprises world also have praised the tool.
GetResponse, on the other hand, has consistently tried to stay on top of its game. The platform's ability to evolve and change with the times is its strongest feature. It continues to offer the best marketing and advertising solutions to assist users in expanding their businesses.
In this GetResponse review 2021, we want to share what we experienced in this tool and discuss its main features. After reading the post, you should be able to determine whether GetResponse is robust enough for your business.
Top GetResponse features
Email marketing
GetResponse's flagship service will not let you down. It allows users to design and generate beautiful emails that recipients will want to open, click, and sell. Rather than building a design from scratch, we just chose a template to use for our email marketing campaign. We could first preview the template to check if it fits the look and feels we wanted for the campaign objectives. Plus, this feature allowed us to design custom segments based on our criteria. For better personalization and to attract customers' attention, we utilized dynamic content. With the ideal timing tool, it also entitled us to send emails at our audience's preferred time.
With GetResponse Autoresponder, you don't have to manually send the emails. While Email Analytics assorts you to examine the campaign's analytics, allowing you to see the many parameters so that you can define the campaign's overall performance. Additionally, email marketing covers List management and Transactional emails features. All of them help your email campaigns become more effective.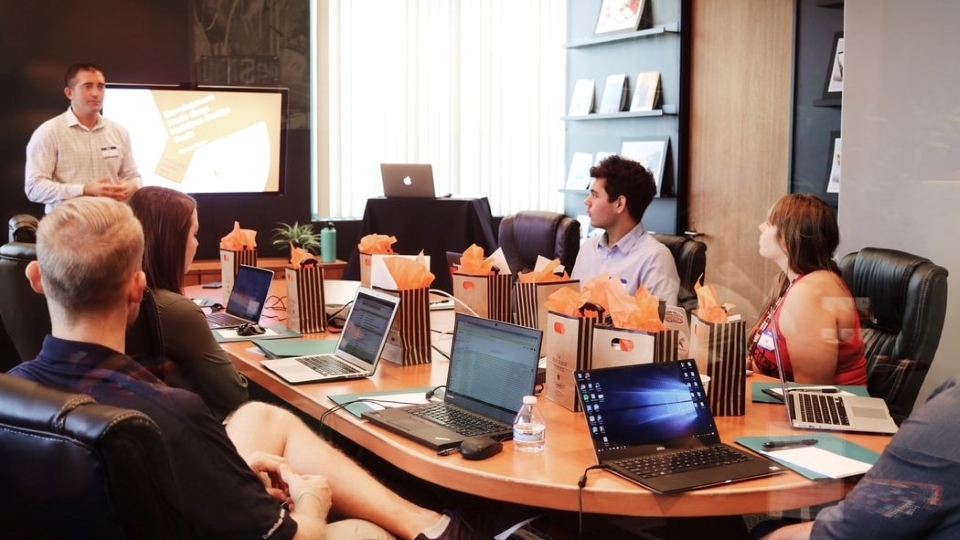 GetResponse Marketing and Advertising Softwares Review by TopFreeReviews
Website builder
This is a new feature of GetResponse. This tool allows users to build a business page, event website, or portfolio, within seconds on different devices. It offers a one-of-a-kind online appearance thanks to an AI-driven, code-free website builder. Just pick a template you like and use the drag-and-drop editor so that you can customize your design according to your preference. The Global Design tool helps you switch up the fonts, style, as well as colors easily.
Webinars
If your company's sales aren't increasing as a result of your resource guides, consider implementing simple webinars to boost your sales. To enhance conversions and engagement, you may connect with your leads anywhere, at any time.
GetResponse Webinar will help you host unlimited webinars or organize a live room for 1,000 attendees to help them join and learn more about your products/services. If they take your webinar, it means they're interested in what you say and offer. So with only one webinar, you should expect to close more customers and leads.
Marketing Automation
You should use the GetResponse Marketing Automation service if you want to produce more sales and money on autopilot. You should use it to build marketing automation workflows based on your audiences' data and behavior. It tracks your customer's actions, data, and interests to create different segments. This enables you to put the software to work by sending customized and relevant emails to a part of your list automatically.
These are the four main and top features of GetResponse we've directly tested. And they are enough for us to decide to choose it for our business. If you are unsure, don't forget to visit its website and discover more features this tool provides.
Is GetResponse the perfect marketing solution for your business?
Whether you're an entrepreneur, marketer, or large company owner, GetResponse offers a new approach to marketing problems. Also, this company has won numerous honors for its great services, so you should not take it lightly. The company gives some tailored price plans to cover any form of your organization. You must pay a monthly charge for whichever plan you choose. GetResponse, on the other hand, offers both yearly and biannual prepaid plans that save users money. We think a biannual prepaid plan is a good choice to consider if you are not one for making drastic changes. Remember that each plan has its own price and additional features. There are four different plans, including Basic, Plus, Professional, and Max. The monthly fee of each plan is $15, $49, $99, and custom pricing (set at the time of publishing), respectively. In comparison to the Plus, Professional, and Max plans, the Basic plan has a significant lack of options, but it is reasonable for its price. The greater the plan's price, the more strong features you'll get. GetResponse mentions that their target consumers are new/small business owners several times. If consumers' needs change, we hope its accessibility will motivate them to upgrade to the more involved service plans.
GetResponse is marketing automation, and business owners or marketers can take advantage of this feature to build a connection with your audience. Save time and resources, sell more but spend less effort, why don't you use this tool today? As we said, there is a big gap between GetResponse pricing plans regarding available features, so you should consider carefully before deciding to buy the plan for your business. GetResponse offers a 30-days free trial, and you should use this benefit to discover the package you want to use. Choose the package if it fulfills your requirements and suits your budget.
GetResponse is doing a lot of things right, as evidenced by its broad list of effective services including email marketing, landing pages, and webinars. Being a top-rated marketing and advertising platform, GetResponse is definitely flexible enough to perform everything you need. We found this to be true in our own email campaigns, and we encourage you to share our GetResponse review 2021 with others if you find them useful.