Graco Contender 65 Convertible Car Seat
Advantage
Grows with your child with the safety harness system
High-rated safety
Allow you to switch from rear to forward-facing
Automatically adjusts both the harness and headrest height at the same time
Keep baby snug and secure
Multiple colors and designs
Graco Contender 65 Convertible Car Seat: Affordable, Durable, And Safe Infant Car Seat
Graco's baby goods are popular among parents, and the Graco Contender 65 Convertible Car Seat is no exception. It has great features, such as safety, adjustability, easy latching, a good locking system, and especially, giving your little one a comfortable feeling. That's why many consider it as one of the best Graco infant car seats. Be sure to read our Graco Contender 65 Convertible Car Seat Reviews if you are planning to buy it and then make it a simple, reliable, and safe chair for your baby.
Safety is the first
If you ask any parents what they worry about when their children are in the car, we're sure you'll get the answer it's safety. With the Graco Contender 65 Convertible Car Seat, parents can rest assured that their babies are protected due to its safety standards. This convertible car seat is a Safety Seat Engineered and tested for side-impact, which means Graco always puts safety first. It is very sturdy and features impact resistance. In addition, this product also has EPS foam which is lightweight foam, creating comfort for the baby when sitting. We consulted Graco infant car seat reviews, and another safety feature that makes users love this item is its ability to withstand extreme temperatures. If the area where you live is too hot in the summer and freezing in the winter, then you don't have to worry about the plastic or buckle on this infant car seat breaking due to the stress of the heat.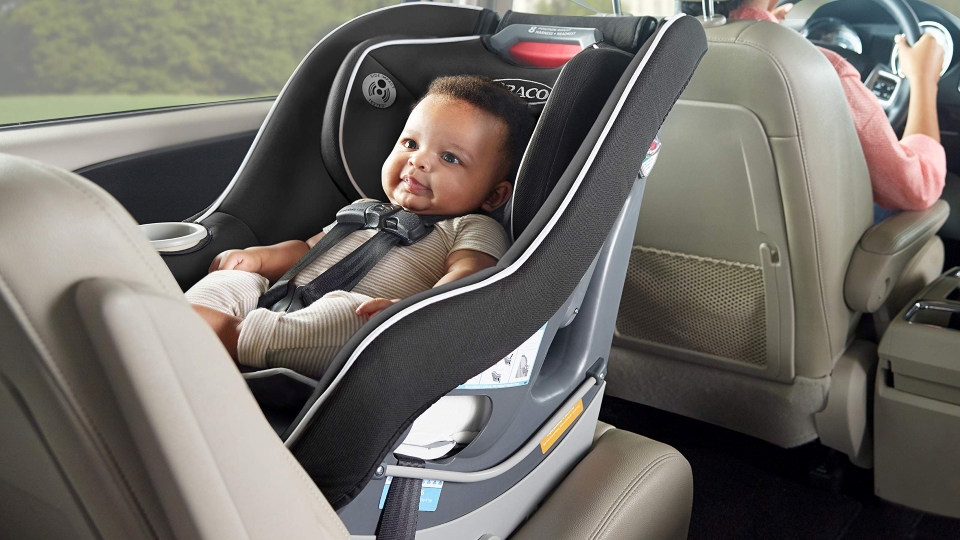 Graco Contender 65 Convertible Infant Car Seat Review By TopFreeReviews
Other features
This car seat can be used in two modes: forward-facing and rear-facing, but be careful with Graco Contender 65 convertible car seat weight limits. Working as a rear-facing infant car seat, it is suitable for children from 5 to 40 lbs, and the forward-facing one is for children under 65 lbs. The Simply Safe Adjust harness system automatically adjusts the harness and headrest height at the same time to make your little one as comfortable as possible. Many parents choose to buy this chair for their child's first years because it is very useful and reasonably priced. In addition, the Graco Contender 65 Convertible car seat installation is not difficult, and you can convert from a front-facing to a rear-facing seat within a couple of minutes. As long as you read and follow the Graco Contender 65 convertible car seat manual step-by-step, you can handle it smoothly. We think that if we can install it, any parent can do it.
When you put your kid in the car seat, you always expect that the item is sufficient padding so that you don't worry if your kid is safe and comfortable. This also helps you rest assured when driving. Plus, the Graco Contender 65 car seat allows users to take the padding out anyways, and its cover is machine washable. It's very easy to remove the straps and buckle to remove the cover, and then all we do is run it through a gentle cycle in the washing machine. It will not take long to dry, maybe 2-3 hours to dry completely. We love this cleanable item, we can clean buckles and straps in place without any hassle. Another thing that makes us like this convertible infant car seat is its weight. You may find a lot of convertible car seats weigh around 20-25 lbs, but this Graco one is about 15 lbs in weight. It is enough lightweight to use and install.
Final take
If you want a basic infant car seat with great safety for the first few years of your child's life, then the Graco Contender 65 Convertible Car Seat is for you. It's super secure, has 2 easy-to-use modes, and has a great belt adjustment system. It has some perks like a fixed beverage holder and machine washable cushions. Overall, this chair has this good and reliable price point. We do hope our Graco Contender 65 Convertible Car Seat reviews are good for you.