Hyper Tough 19-Inch Toolbox, Plastic Tool and Hardware Storage
Advantage
A practical and fully portable tool organizing and storage solution for DIYers
Plenty of pro features and heavy-duty construction
Keep your tools protected at all times
Removable utility tray
Reasonable price
Hyper Tough 19-Inch Toolbox, Plastic Tool and Hardware Storage - The Benefits You Should Know When Buying A Tool Box
No matter how many tools you have, you need a way to organize and store them so that they are easy to use and transport when needed. Many electricians, carpenters, and DIY professionals use a toolbox to keep hammers, screwdrivers, and other items in one place. Designed to serve a wide range of customers, the Hyper Tough 19-Inch Toolbox, Plastic Tool and Hardware Storage also excels at organizing and storing tools. The Hyper Tough 19-Inch Tool box is convenient since it allows users to easily carry them from place to place and they always have the tools they need right next to them.
Outstanding benefits of Hyper Tough 19-Inch Toolbox
The Hyper Tough tool box measures 18.90 by 10.25 by 9.85 inches (LWH) and is made of durable materials. In addition to the main tool box, it comes with small compartments on the top of the lid for increased storage capacity and easy protection of small items such as drill bits, screws, electrical tape, and much more. It has an easy-grip handle that is easy to use and comfortable to carry anywhere. This item is portable and good for your home use or small DIY projects, and it is deep enough to hold many items. Although the box is not the largest one, we are sure it has enough space for you to organize the tools you need to get the job done efficiently. The following are advantages of a tool box or chest:
Organize your tool kits
You probably also know that before deciding to buy the best tool box organization system, you need to determine what type you want. Do you need multiple compartments to divide your tools into different sizes or types? Yes, the Hyper Tough 19-Inch Toolbox is a combination of the main tool box, a tray, and small compartments on the lid for you to store many different items. We used this product and packed large items into the largest space at the bottom of the box. We arrange tools in order from big to small, from heavy to light. We put electrical equipment, drills and hammers in a big box at the bottom. In the removable top tray, we arrange screwdrivers, wrenches, pliers, scissors, and so on. On the small compartments on the lid, we put small objects. We're sure you have some sort of tool at home or work, so the Hyper Tough tool chest is definitely right for you. You can organize everything in the toolbox, and you always know where they are.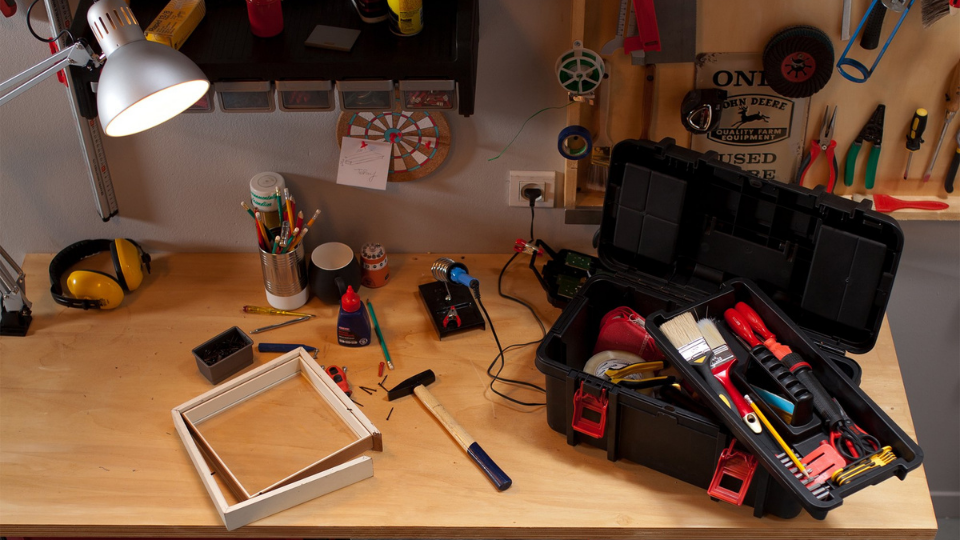 Hyper Tough 19-Inch Toolbox, Plastic Tool and Hardware Storage Review By TopFreeReviews
Protect and maintain your tools
You often have a headache every time you find a hammer when hanging pictures in your house because you don't know where it is located. When you leave your tools out in the open, and a few months later you find them rusted and no longer working as well as before. And you have to spend more money to buy new tools. That's why you should buy a tool box right away. The Hyper Tough tool box keeps your supplies in one place, avoiding loss. And it's water resistant, protecting your gear from damage and working properly the next time you need it. Of course, you don't have to dig through everything to find the tools you need right now.
Easily transport
Do you mind when every time you need a different tool, you have to run to find or get them? But with Hyper Tough Tool box, you won't have to continue this anymore. We mean that you just need to put the essential tools in the box and bring it where you need to work. No matter where you are, at home, in the park, or a small workshop, the Hyper Tough tool box is ready to give you the supplies you need. Weighing only 4.45 lb, even if you put extra supplies inside, it's still easy to carry thanks to the convenient handle design.
Why should you trust us?
Have you ever doubted the reviews of a website because you are not sure if they are actually testing the products or are they just recommending to the seller? It's definitely not us. We evaluate the products we use ourselves, regardless of who the manufacturer or seller is, famous or not. What we really care about is sharing our practical experience so that somewhere, this is the basis for you to make the right choice and a way to save you effort and money. We have had many reviews in multiple areas and received many feedbacks from readers that they have found their ideal products after consulting our sharing. Our professional assessment team has experience and skills in many fields and they know how to tell if an item is performing well in the field. And of course, we also personally used the Hyper Tough Toolbox for 11 months to see how well it works. One thing we are also quite impressed with is the price of this tool box. It deserves to be listed as the best budget tool chests while providing amazing performance. Compared to models of the same price, Hyper Tough is really superior. We also ask experts, including electricians, auto mechanics, and some of our employees to use this tool box to get the most unbiased opinions. We consult, cross-review to better understand how it works and the benefits it brings.