Kidde 1A10BC Basic Use Fire Extinguisher
Advantage
Keep your home safe
Well-prepared for emergencies
Lightweight fire extinguisher to handle and use
For uses on class A, B, and C fires
Suitable for residential and commercial applications
Kidde 1A10BC Basic Use Fire Extinguisher - Necessary Item To Have On Hand For Any Home
Kidde 1A10BC Basic Use Fire Extinguisher is suitable for most common fires
Some people don't like to think about things like fire extinguishers or car insurance, etc. These things are necessary even though we always hope not to use them. Like other safety products, a fire extinguisher is an important item to have in every home. The best portable fire extinguisher is capable of putting out a small fire before it spreads into a disaster. So choosing the right fire extinguisher that suits your requirements is also important as it can keep your home safe. In this article, we want to give you one more choice when buying a fire extinguisher - Kidde 1A10BC Basic Use Fire Extinguisher. This product has the right size and weight for home or office use.
We simulated a small fire 65 feet from our house and used this extinguisher to put it out. Yes, it worked far beyond our expectations. Made of lightweight aluminum, weighing about 3.9 lbs, we easily picked up the fire extinguisher to put out the fire. This Kidde dry chemical fire extinguisher comes with a tough nylon valve assembly that allows us to conveniently point the hose towards the flame. In addition, the fire extinguisher is designed to be compact so it can be stored in many places such as the kitchen, garage, or in the car. It also comes with a bracket so you can mount it on the wall in case you have small children. This can keep this product out of the reach of children and you can easily get it when needed.
This is also considered one of Kidde's best rated fire extinguishers because it helps keep your home safe and ready in case of an emergency. It is created as a method of extinguishing fires caused by trash, paper, flammable liquids, and much more. Specifically, you can use the Kidde 1A10BC Basic Use Fire Extinguisher for Class A, B and C fires. But what are these classes? Class A extinguishers are used to reduce fires caused by wood, plastic, and paper while Class B is for sources such as flammable liquids and gases such as gasoline or oil. Class C extinguishers are used if fires are caused by electrical equipment such as fuses or wires, and this is one of the main causes of fires every year. If you are a loyal customer to Kidde, you can see that many fire extinguishers are rated Type ABC because they are intended primarily for household use. With only one unit, you can use it for many different classes.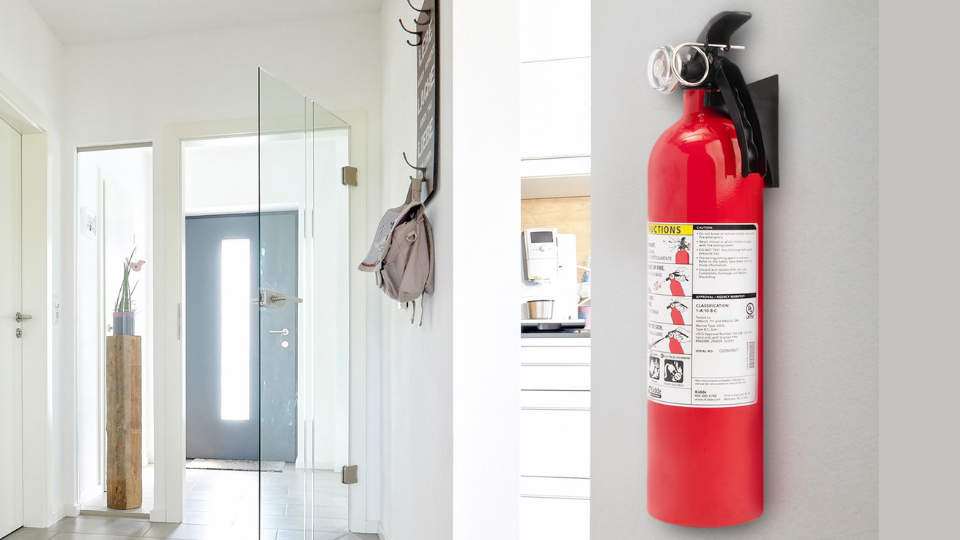 Kidde 1A10BC Basic Use Fire Extinguisher Review By TopFreeReviews
Remember to test your fire extinguisher
If you've never used a fire extinguisher before, have it checked out by experienced people or take it to your local fire department for a detailed check. Before purchasing the Kidde 1A10BC Basic Use Fire Extinguisher, we signed up for a fire safety course and demo class to learn more about choosing and using a fire extinguisher. Our instructors also recommend buying a Kidde Twin Pack fire extinguisher rated 1A10BC if people want to keep the extinguisher both in the house and in the car. This multipurpose home fire extinguisher has an easy-to-read gauge of 2.5 lbs so we know if the flask is ready to go. Instructions for use are clearly printed on the product label to ensure that everyone can follow and use it effectively. Although we had never used this product before, we simply followed the instructions step-by-step and were able to quickly extinguish the simulated fire within minutes.
This Kidde dry chemical fire extinguisher is designed for residential and commercial applications. We all hope we won't have to use this unit, but we still need it in our home or office for peace of mind. The safety pin of the fire extinguisher is also easy to pull, which helps users quickly and accurately manipulate when an unexpected situation occurs. If you use this Kidde kitchen fire extinguisher, we recommend that you don't keep it too close to your stove. You know, the stove is also a common cause of fires, if you keep the fire extinguisher near this appliance, this will make it difficult to remove. Hence, do not forget to carefully consider the location before buying Kidde 1A10BC Basic Use Fire Extinguisher.