Minnidip BLUSHING PALMS luxe inflatable pool
Minnidip Blushing Palms Luxe Inflatable Pool - Indispensable This Summer
Minnidip BLUSHING PALMS luxe inflatable pool is the product of MINNIDIP™ - the first designer inflatable swimming pool brand, founded by Emily Vaca. MINNIDIP™ takes a completely different path from its peers. They create trendy and colorful festive designs for adults as well as kids. There is no commercially available inflatable pool like the products of MINNIDIP™. If sad blue inflatable pools covered with cartoon fish and dolphins completely ruin the beauty of your home's outdoor decor, let Minnidip BLUSHING PALMS luxe inflatable pool take care of it. that. Those who want to cool off on hot days will feel satisfied with what this product brings.
Famous brand
MINNIDIP™, although appearing on the market for a short time, is an impressive name in the hearts of customers. It is no accident that MINNIDIP™ achieves this. The predecessor of the brand will make you admire it!
LA VACA™ is a celebration lifestyle-focused brand and creative designer specializing in product design, content creation, style, and branding founded by Emily Vaca. With 15 years of experience in the advertising and design industries, Emily started LA VACA™ in 2012 as a way to continue creating beyond her day job. The company was originally called Sugar & Gold, Inc. "Sugar" is Emily's father's nickname for her. At that time, the company focused mainly on creative products such as wedding cards, event designs, and DIY decorations. In 2017, Emily changed the company name under the name LA VACA after launching MINNIDIP™, an inflatable pool and accessories-related product company, self-funded by Emily.
Emily left her full-time job as VP of Creatives in the advertising and design industry in January 2018. She has proven her strength and talent in the process of working for a number of companies. The country's biggest brands include Anheuser Busch, Kraft Foods, and Nike. Her aspiration is to become a full-time entrepreneur to focus entirely on the company's product development and design services. At LA VACA™, Emily tackles nearly everything as a moneymaker alone. Painting, designing templates and packaging, directing the artwork, fulfilling orders, and reaching out to new distributors are her daily tasks to achieve the success she is today.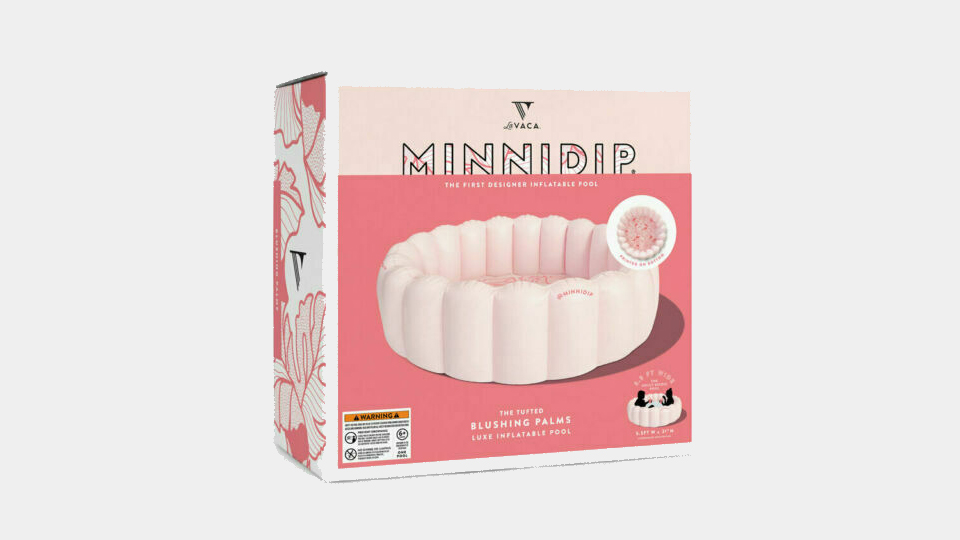 Minnidip BLUSHING PALMS luxe inflatable pool
Unique design
The Tufted BLUSHING PALMS Minnidip Luxe Inflatable Pool was designed in Chicago by Emily Vaca of La Vaca. It's not too bulky at 5.5 feet wide and 21 inches tall. The design of the Minnidip BLUSHING PALMS luxe inflatable pool is a combination of Minnidip's iconic scallop tufts and the signature palm leaf motif in a vibrant coral. Minnidip BLUSHING PALMS luxe inflatable pool has enough capacity to hold a small pool party with your friends and relatives. This handy Minnidip inflatable pool is perfect for adults and kids ages 6 and up.
Who is Minnidip BLUSHING PALMS luxe inflatable pool suitable for?
For pink lovers
With the main color is light pink, the Minnidip BLUSHING PALMS luxe inflatable pool captures the love of the majority of women. This color tone is also easy to decorate and coordinate with other decorative objects in your home space. In addition, a light color makes space seem more spacious and airy in the hot summer. Covering is a great idea for those who want an indoor swimming pool but do not want to change the layout and main colors that they are pursuing.
For photography lovers
Surely each of us wants to have beautiful pictures when wearing a bikini in the summer. However, basking on the sand in the hot sun during the epidemic does not seem like a good idea. Now you can set up a photo angle to your liking right in your own room to freely pose with Minnidip BLUSHING PALMS luxe inflatable pool. It is no exaggeration to say that this Minnidip pool can become a decorative addition to your main room.
For delicate people
Are you not a fan of color? Don't like colorful inflatable swimming pools with funny motifs? Don't want your inflatable swimming pool to take up all of your garden space? Minnidip BLUSHING PALMS luxe inflatable pool is just what you've been looking for all along. The sophistication in product design will satisfy even the most demanding customer.
Advice from us
We often think that a certain product rarely achieves all that we want. However, this is not true for Minnidip BLUSHING PALMS luxe inflatable pool. To test the capacity as well as the pressures that this swimming pool can withstand, we have carried out many tests. The results show that the Minnidip BLUSHING PALMS luxe inflatable pool is one of the most durable inflatable pools we've come across. In addition, to strengthen the trust and remove the anxiety of customers, the company also provides backup patches in case of need. However, during normal use and without unexpected incidents, we may not need to use them.