Best Home 3D Printers - How We Tested These Smart Manufacturing Tool
Our experience
When we evaluated a 3D printer, we set up and categorized each printer model to make it easier to review. We noticed how long it took from when the printers were out of the box to when they were ready for use. If you're using the best home 3D printer for the first time, it's a good idea to jot down installation and navigation notes from the start. We've also looked at the technologies printers use and the different ways they can be controlled. To find the best 3D printer filament brands, we had to research what type of material the printer supports and whether they require us to only use the materials they sell. We then test each machine 7-8 times to evaluate print quality and print speed. We checked if the 3D prints were sharp and how they could clarify models with complex shapes. We used models that were cartoon characters like Pokemon to see if the results were properly printed or if the character in the 3D print has all the same parts as the model.
The best 3D printer for home hobbyists from Monoprice, XYZprinting, and Flashforge are capable of creating successful prints. They are suitable for both experienced users who know how to tweak and install the appliance to beginners who do not have much knowledge about the hardware of this one. Because our aim is helping you find user-friendly items, we try to find products with flexible and easy-to-use interfaces so that anyone can operate them. Even if you are a beginner like our colleague or an intermediate user, you are able to use these printers after being instructed basically.
You can spend hundreds to millions of dollars on a 3D printer. The prices of 3D printers vary because they use different technologies and offer different excellent features. But never think that all cheap products are poor quality, it may be that you have not found the right item. There are tons of best budget home 3D printers, for instance, our options cost under $500, and they always give us the same great experience as the expensive models do, sometimes even easier to use. The items we selected have a large enough print bed with automatic leveling function. Make sure that the print bed is not tilted when you work as it may cause printing errors. The best home 3D printer for beginners always produces models that are accurate and look as smooth as the originals. We put ourselves in the shoes of those who are just starting to use the device for the first time and use the 3D printer software, including model adjustment before printing, and they are entirely easy to operate. These software are usually pre-loaded in the settings, and they also offer premium options for experienced users to tweak.
Rich connectivity options are also important when we experience the 3D printer. Ideally, you can start printing over Wi-Fi or transfer files via a USB cable, which is convenient. Some products allow you to load files onto an SD card, which you then plug the card into the printer. Because they are the best home 3D printer under 500, these models are suitable for placing in the desk and suitable for everyday life. These machines are designed to be not too big or heavy, and operate relatively quietly. Surely they will not affect your children's sleep when you use them in the house. Additionally, these 3D printers also allow you to use models with different sizes and print with a variety of materials such as plastic, PLA, and more.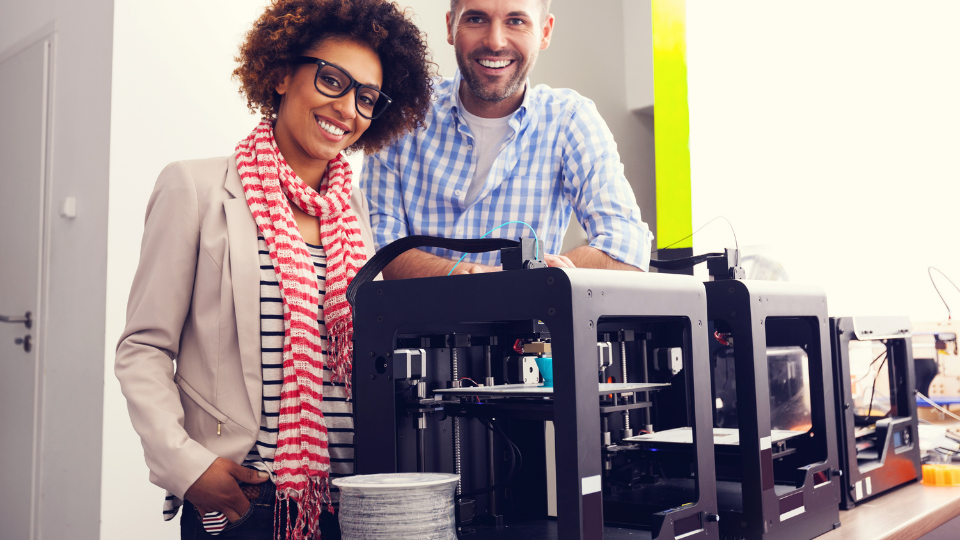 Best Home 3D Printers Reviews By TopFreeReviews
Advantages of the best home 3D printer
Why should you use a 3D printer? Remember that this device is not a game. For example, the best home 3D printer for miniatures can help you create beautiful, meticulous decorations, but you also have to put in a lot of effort to get it. This device helps stimulate the creativity of users, whether it is parents or children, anyone can use it to create lovely and favorite items. Moreover, the 3D printing industry is also very popular nowadays and manufacturers always release products with innovative technology every year. We think learning more about 3D printing technology and types of 3D printers won't be a waste of your time. Who knows, you might find a new passion or a new hobby that you've never discovered before. It can be said that best home 3D printers are a convenient and easy way for you to access this technology industry and help you not feel outdated.
Like other electronic devices, performing regular maintenance will keep you away from problems and printing errors. If the best 3D printer for home hobbyists has the ability to automatically level the print tray, you can choose to calibrate it in its menu. The 3D printer also allows you to adjust the print temperature and a number of other settings to prevent the print material from sticking. This makes cleaning after use much easier. After a period of use, you can use a clean cloth and warm water to remove the accumulated plastic remnants, if it is stubborn stains you can use 90% isopropyl alcohol to remove it.
However, 3D printers also have an impact on your health and the environment. It is recommended to use models printed with polylactic acid, PLA, or PETG as a way to protect the environment. These recycling systems can make you more economical and safer to use at home. Don't forget to take protective measures, if any, before using the 3D printer.
XYZprinting da Vinci Mini Wireless 3D Printer
Lightweight and Transportable: Weighing less than 18lb, the da Vinci miniMaker is light enough to easily move around your house. Small Size, Big Print Volume: With a 5.9" x 5.9" x 5.9" aluminum print bed, print bigger and higher quality objects on a smaller printer. Stress-free Maintenance: Comes fully assembled with auto-leveling software, making setup, calibration and maintenance simple. Perfect Prints First Time: All of our print materials are quality checked and pre-tested so that when you print a model using our 3D software XYZmaker, all the print settings have been calculated for you
FlashForge Adventurer 3 Lite 3D Printer
Auto filament feeding with an enclosed built-in filament cartridge Removable and flexible heated print bed 45 Decibel, ultra quiet during operation
Monoprice MP Mini SLA LCD High Resolution Resin 3D Printer
The MP Mini SLA 3D Printer produces higher quality, more detailed, and smoother prints when compared to filament-based 3D printers. It uses an LCD display to cure layers of UV photosensitive resin with layer heights as small as 35 microns. The printer is ready to print right out of the box. Simply pair it with your Wi-Fi network and add the included sample resin. It has a built-in Web UI, which can slice and print model files without the need for a separate software package. It automatically calibrates and levels the print platform whenever a print is started, ensuring a perfect print every time.
Monoprice MP Mini Delta 3D Printer
50 micron layer resolution Can print from a computer using a wireless Wi-Fi or physical USB connection, or offline with a microSD card Up to 150mm/sec print speed 180 ~ 260C extruder nozzle temperature range Up to 60C build plate temperature range 110 x 120 mm build area Compatible with Windows and Mac OS X