Tactacam Reveal X Trail Camera
Tantacam's Reveal X is a superior device that can help you extend your vision towards the wildlife and your property
LTE / 4G wireless module Sub 1/2s trigger speeds Adjustable IGHT illumination at 96+ft 12 AA Batteries IP66 waterproof certified External port for solar panel One year warranty USA developed and supported app On-board Wi-Fi LED indicator Month-to-Month Data plans No Contracts/Activation fees
Whether you want to capture images of wildlife or keep an eye on the living pattern of an animal that you find exciting, a trail camera can be in your best interest. When it comes to the best trail cameras that offer high-resolution images and pictures, Tactacam reigns supreme with their product line. The Tactacam's Reveal X exemplifies the top-quality service that Tactacam can offer.
Equipped with ½-second triggers and an excellent 96' infrared flash, this trail camera produces vivid and high-quality images of the wildlife or a certain creature on which you set eyes. This Tactacam Reveal X review will delve deep into the specs and features of this camera to help you know whether Reveal X will meet your needs.
Spypoint Link-Micro-LTE Cellular Trail Camera
Spypoint Link-Micro-LTE Cellular Trail Camera surprises consumers with its outstanding features and raises the bar of trail cameras in general
BUCK TRACKER Detection Technology Network: LTE SIM card: Preactivated included Photos transmission Camera fully configurable: via the SPYPOINT App Continuous mode Multi-shot mode Stamp on pictures Photo type: Color by day, infrared by night Trigger speed: 0.5 s Flash range< 80' (24m) Number of LEDs: 4 Power LEDs Definition (MP): 10MP Power: 8 alkaline AA batteries (not included) Memory card: Micro-SD card (not included) up to 32 GB Power: LIT-10 battery pack (not included) External power: DC 12V input Distance detection sensor: Up to 80 ft (24m) Schedule setup: 7 days Mount: Standard 1/4"-20 tripod 3.1" W X 4.4" H X 2.2" D (7,9 cm W X 11,2 cm H X 5,6 cm D) 2-year warranty
Trail cameras are always a great helper when you want to keep track of creatures in the wildlife or keep an eye on your property when you're away. Over the years, trail cameras' quality has been taken to a very high level and modern trail cameras can perform many things that haven't been witnessed in the past. Spypoint Link-Micro-LTE Cellular Trail Camera can proudly proclaim itself as one of those innovative cameras.
To offer their customers the best and most complete scouting program, Spypoint has been constantly refined and advanced their products. Gradually, their relentless attempts turn them into an industry-leading name in their field, and the Spypoint Link-Micro-LTE Cellular Trail Camera is one of the significant contributors to their success. The Link-Micro-LTE cements the legacy of the MICRO family by offering superb performance at an affordable price. Let's take a look at our Spypoint Link Micro LTE review to explore how much you can gain from this Spypoint trail camera.
Browning Defender Wireless Cellular Trail Camera
Browning Defender Wireless Cellular Trail Camera deserves to have a spot on your must-buy list for the incredible features it offers
2" color viewing screen 120 ft. long range infrared illumination at night 80 ft. invisible infrared illumination at night Adjustable IR flash 0.3 - 0.7 second adjustable trigger speed 1920 x 1080 FHD videos with sound Adjustable detection range up to 80 ft. 0.6 second recovery time between images SD card management options Smart IR video 16 AA batteries Up to 8 multi shot images Up to 8 rapid fire images Programmable picture delay (1 sec. – 60 min.) ¼" -20 tripod socket Metal tree mount bracket
Browning Trail Cameras are well known for being designed and crafted by an ardent group of hunters and outdoor enthusiasts who never cease to create the most innovative products with unmatched quality. Born out of such a holy mission, the Browning Defender Wireless Cellular Trail Camera contains everything you've wished for in an effective scouting tool.
Apart from the basic functions of a trail camera, the Defender Wireless also offers many advanced features hardly seen in any trail camera of other brands. Bet you'll be taken aback by the superior performance of this scouting device. Our following Browning Trail Cameras reviews will provide you with a comprehensive overview of this product's specs and details.
Best Trail Cameras: An Useful Tool For Scouting And Certain Aspects You Need To Know About These Tracking Devices
Who will need a trail camera?
Thanks to their ability to track movements and capture images, trail cameras cater to the needs of hunters, researchers, and wildlife watchers. According to our research, those who buy trail cameras are mostly individuals who want to get a view of the animals that roam around their properties and cabins. Most of our picks also gear towards these types of customers. However, our compilation also includes the best game camera that can help hunters keep track of their prey and the best cellular trail cameras that meet the requirements of scientists and park rangers who don't want to waste too much money on 4K resolution cameras.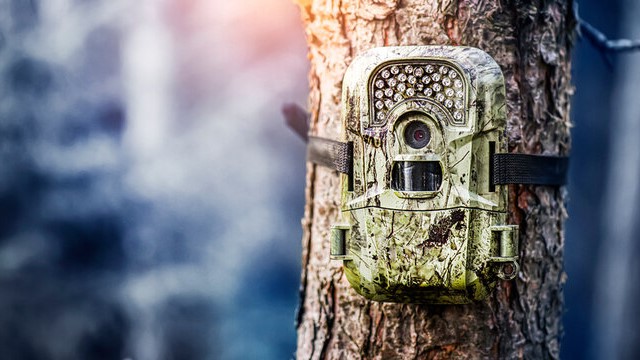 Best Trail Cameras Reviews By TopFreeReviews
What criteria did we base our judgment on?
There are an innumerable number of trail cameras floating on the market, and to test all of them is impossible. Thus, we placed much emphasis on products from prestigious brands and those available in major retail stores.
Also, trail cameras vary in different dimensions, which means we need to focus on the most important aspects to narrow the field and decide which ones are the best. The following traits are what we consider most crucial in any trail camera we tested.
Size
Trail cameras are mostly used for scouting and tracking lurking animals, so the best value trail cameras should be compact enough for them to be easily mounted to a tree trunk for concealment. Hence, we tend to give higher ratings for compact and medium-sized trail cameras that facilitate maneuverability and setup.
Quality of images and pictures
The most critical measurement of trail cameras is undoubtedly the quality of images and pictures they offer. For a trail camera to be considered good, it needs to provide a still photo of 14-megapixel resolution or higher. Trail cameras with lower resolution didn't pass our test and were not included in the list.
Video resolution
As many trail cameras allow you to record videos, the resolution of these videos is also one of our top concerns. The standard resolution that these videos need to acquire is 720p, which means if the video quality is lower than that, the images will be grainy and blurry.
Trigger speed
Trail cameras with higher trigger speed are more likely to capture the image of fast-lightning creatures than those with lower trigger speed. Most of our picks are trail cameras whose trigger speed hovers around 0.5 to 0.9 seconds.
Detection distance
This is also a vital feature of trail cameras since it enables a camera to detect objects within a certain distance. If human eyes can discern things over a mile away, most trail cameras can only spot moving objects within a distance of a dozen feet. Trail cameras that pass our test possess a detection distance of 50 feet and even farther.
How we tested
To measure the performance of different trail cameras, our testing staff first set up the camera and placed it in the woods. We used the same battery for all models to ensure a consistent and uniform delivery from them. After setting up the cameras, we inserted our SD cards into each one and mounted those cameras to the same place. We left them running for 3 days and came back to retrieve our SD cards.
We then looked through photos and videos that each camera produced to assess their quality. We assess the quality of each picture based on saturation, clarity, sharpness, etc., and make comparisons when needed.