Adobe Premiere Pro Video Editor
Adobe Premiere Pro is always a familiar name when it comes to a professional video editing program.
Trimming Project Clips Transitions and Effects Media Replacement in Motion Graphics templates Auto Reframe 360-Degree VR Video Multi-Camera Angle Editing Color Adjustments and Effects Audio Editing, Titles and Captions
Thanks to its familiar non-linear editing interface, unmatched toolset, and powerful capabilities, Adobe Premiere Pro has earned its status as the industry-standard video editing software. We recently reviewed its major application to experience the newly added features: new text, graphics, and audio tools; performance improvements; Auto Reframe tool; enhanced HDR support; and many other features. All of the features we mentioned above make Premiere the Editor's Choice award for professional-grade video editing software.
By polishing the interface and adding modern tools to its professional video editing software, Adobe continues to make effective user outreach. After testing with a wide range of high-quality photos and videos, we have to say that Adobe's professional video editing software leads the way when it comes to collaboration features, and Premiere Pro can do everything a human can. Use professional video editor need. Its tight integration with useful features like After Effects, Photoshop, Audition, and the entire Creative Cloud suite is a definite boon for professional editors. Adobe Premiere Pro Editing is a giant program with enormous capabilities that one of our Adobe Premiere Pro reviews can hardly describe in detail.
Cyberlink Powerdirector 365 Video Editor
CyberLink PowerDirector 365 will help you have the most impressive videos to preserve great moments.
Mask & Blend Keyframing Green Screen Motion Tracking 3,000+ Effects and Templates Latest Format Support Fastest Video Editor Extensive Stock Library Motion Graphic Titles Epic Titles Shape Designer Transitions Video Effects LUTs & Color Match
We found CyberLink's PowerDirector video editing software to be consumer-friendly thanks to its video editing tools, access to royalty-free videos and images from a number of sources. It is often ahead of professional productions not only with better color combinations and frames and a streamlined interface but also thanks to supporting new formats and new technologies. Cyberlink Powerdirector For Pc also provides tools to help users create a compelling digital movie, complete with transitions, effects, and titles. Best of all, Cyberlink Powerdirector 365 is easy to work with and renders quickly. PowerDirector is professional video editing software that everyone should try.
CyberLink adds features and effects like 360-degree capabilities, including stabilization, titles, transitions, motion tracking, and View Designer for cool effects and improves at breakneck speed. Other standout features that we enjoyed include LUT (lookup table) filter support (and many included LUT effect filters), animated picture-in-picture templates, split toning, HDR effects, and automatic audio ducking.
Corel VideoStudio Ultimate 2021 Video Editor
Corel VideoStudio Ultimate 2021 is one of the recent trending video editing software.
Number of Video Tracks: 50 Motion Tracking Multicam Editing 3D Editing Supports 360° VR Content Supports 4K XAVC-S Format Exports to H.265 (HEVC) Keyword Tag Media not available
As a very outstanding and easy-to-use video editor, Corel VideoStudio Ultimate 2021 is widely used by professionals as well as amateurs. However, we encountered some performance issues during testing Corel VideoStudio Ultimate. We think Corel VideoStudio Ultimate might not be the answer for everyone. Read our full Corel VideoStudio Ultimate review for details.
We are looking at a recent highly rated software in this review. VideoStudio is a famous video editing tool published by Corel - a Canadian software company. It has been around since 2006 and was originally developed by Taiwanese developer Ulead Systems. We'll compare what it does with today's competitors. First, we'll take a look at how Corel VideoStudio Ultimate's features work. We will analyze its accessibility, performance and see what formats it supports and the tools that come with it.
Corel VideoStudio Ultimate lets you perform stop motion, video masking, Multicam, motion tracking, time remapping, and audio ducking. Since this program already has a lot of features, the 2021 release is mostly about performance and reliability improvements rather than adding some new features. We judged this change essential based on my previous testing. The result is solid and impressive video editing software with a clean and simple interface equipped with interesting editing tools.
We like a lot of things about VideoStudio: the beautiful user interface, rich features, and readable controls. However, not what we expected it to do well and we have had some problems with it. But overall, using Corel VideoStudio Ultimate for video editing is a positive experience.
Best Video Editors: Free Or Fee?
How to choose your Video Editor
In fact, we've created a list of the best free video editing software 2021 available for both Windows and Mac. While cost is a determining factor in using free software and signing up for a premium account, that's not the whole story.
Users need to consider what format the video needs to be exported, what output quality (HD, 4K, or 8K?), and whether the software can deliver the kind of visual effects they want to use. If users are going to collaborate, their apps need to be compatible with other people's apps.
Also, the user should consider an app that matches his experience. A simpler app that walks the user through the entire process step-by-step, or a full-featured app that caters to high-tech videos? Is there full control over every pixel, or does the computer automatically do most of the work? Those are the options that people need to consider before starting to choose a video editing program.
The last factor is the price of the video editing software. Most of the features and performance of cheap or free apps are very limited and almost all premium editors are scary expensive. However, most video editing software is not all. Without doing your due diligence on what you're about to use, you can either pay too much and end up with an app that's overkill or pay too little and end up frustrated when the app refuses to perform the tasks you have requested. We recommend that you remember that the more you do, the more you want to do. Consider apps that can grow with your imagination.
Professionals looking for a more powerful editor with lots of built-in resources, responsive tech support, and more should shell out some money for a name that makes it to the Best Video Editing Softwares list. which we have created after the tests.
However, there is a third option: you can download freeware, which provides all the basics. After the experience, you will buy additional features according to your needs. This can save you a bit of money, instead of buying all the features, including those you don't need.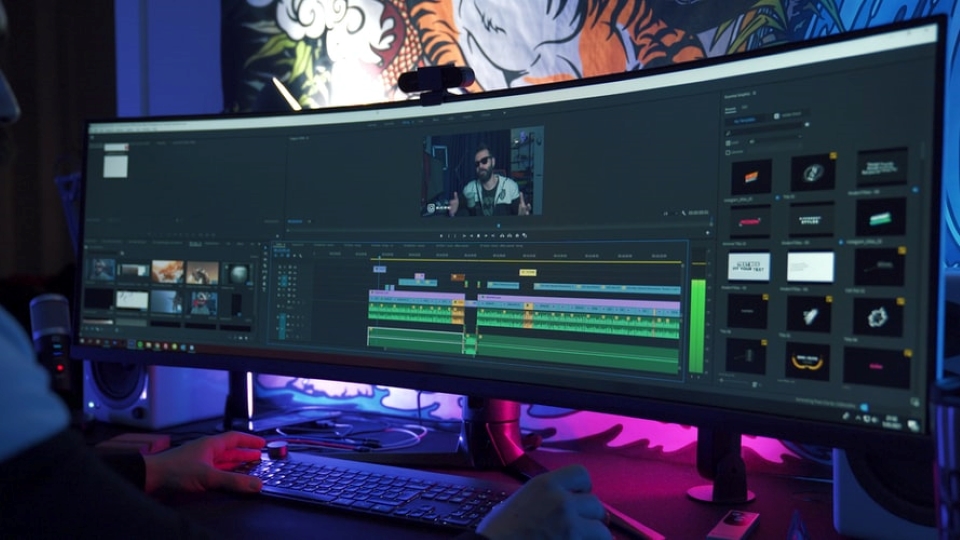 Best Video Editing Softwares 2021 Reviews
How we test the best video editing softwares 2021
We tested more than a dozen programs including both paid and free on Mac and Windows laptops for over 200 hours to compile a list of the best video editing software of 2021. We analyze the pros. and the disadvantages of this software carefully to be able to conclude which software is best for editing, as well as sharing your videos with friends and family.
We have evaluated all software based on all factors: functionality, ease of use, performance, sharing options, and new features in the latest versions. We also rate video editing tools based on actual use for a number of specific categories, including Best Video Editing Software Free, Best Video Editing Software For Mac, Best Video Editing Software For Beginners, Best Video Editing Software For Windows 10, Best Video Editing Software For Youtube,...
Results and performance are important, but they are not the most important components of software evaluation. Depending on your hardware setup, your time and effort on a project will vary. For comparison, ease of use, interface, and features have a bigger impact than time.
Some of the programs on the list may be updated with newer versions since the first review, we will constantly check and update this list. At the same time, we will also be upgrading our test platforms from laptops with integrated graphics to laptops with discrete GPUs. We're sure the performance improvement from applications that can take advantage of the discrete graphics card will be more reflected. We will update this list of the best video editing software once we upgrade. Therefore, you should regularly update this review to collect useful information about Best Video Editing.