Acer 32" Curved 1920x1080 HDMI DP 165Hz 1MS Freesync HD LED Gaming Monitor - ED320QR Sbiipx
Advantage
Deliver realistic images with superior clarity and a high level of detail
Improve eye comfort, reducing eye-strain during prolonged usage
A good option with energy-saving mode
Easily view with tilt-adjustable display
Make movies and games appear more real and dramatic, and small details and text are clear
Acer 32" Curved 1920x1080 HDMI DP 165hz 1ms Freesync HD LED Gaming Monitor - ED320QR Sbiipx: Improve Your Eye Comfort
Looking for a curved 1080p gaming monitor with fast response speed and high performance? Chances are you find the prices of many quality monitors quite high, and that's why we're fans of the Acer 32" Curved 1920x1080 HDMI DP 165hz 1ms Freesync HD LED Gaming Monitor - ED320QR Sbiipx. Let's jump into our Acer 32 Curved Gaming Monitor 165Hz Review to see if it is worth your investment.
Acer 32 curved gaming monitor review: Great value
Acer 32 curved gaming monitor is today's popular product for gamers. It delivers high-quality, sharp and accurate images. We understand that everyone's requirements are not the same, so we review all the features needed for a basic monitor to help you understand it better. As the name implies, this monitor gives you 1920 x 1080 high resolution images, 165Hz refresh rate, and 1ms response time. All of this was enough to impress us when we first learned about this electronic device. Together with the 4000:1 contrast ratio and aspect ratio: 16:9, these features make it for a great deal. There are many full TVs that only have a 60Hz refresh rate, but this monitor is packed with 165Hz, which is enough to get you the most detailed graphics. We love curved devices because they provide a wide view of what's on the screen. And the Acer ED320QR did just that, allowing us to immerse ourselves in our favorite games and complete tasks with excellence.
ED320QR packs a VA panel and 178° wide viewing angle that offer better color reproduction with contrast ratio and allow you to view the screen from different positions. Monitors using VA panels usually have very good contrast and are able to output very deep blacks. We put this monitor in our workspace and adjusted the lighting to test the color gamut that the display outputs. Plus, this monitor is compatible with AMD FreeSync technology, giving you smooth gameplay, without stuttering or tearing, even during fast actions.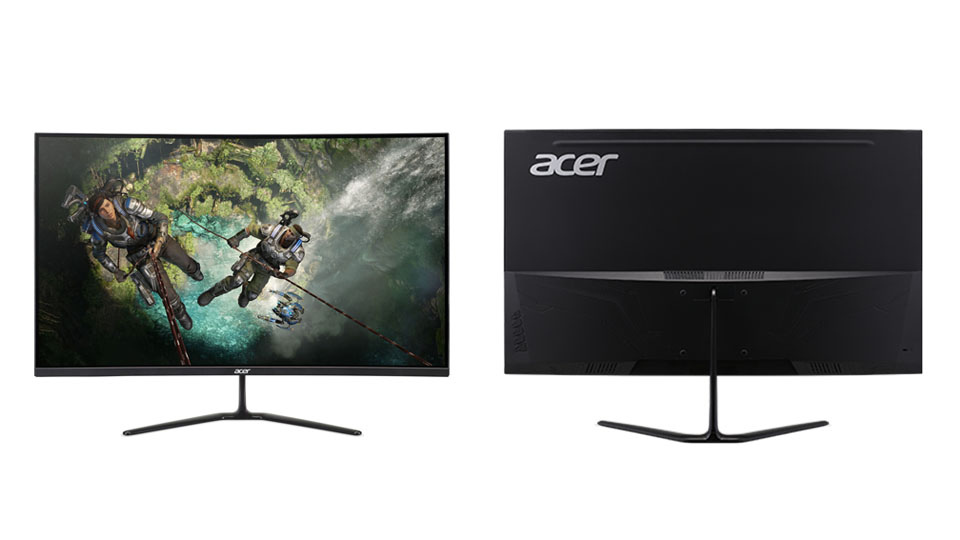 Acer 32 Curved 1920x1080 HDMI DP 165hz 1ms Freesync HD LED Gaming Monitor - ED320QR Sbiipx Review By TopFreeReviews
In addition, the monitor can plug into your home setup with a 100 x 100 mm VESA-compatible wall mount, 2 HDMI ports and a DisplayPort. We also appreciate the slim design of the screen as it makes us feel that the overall size of the screen is smaller and looks more compact. And of course, the sharpness and vividness of the image is not reduced at all. Not just for gaming, you can use this monitor to work, surf the web, or watch your favorite reality shows. We have recommended this monitor from Acer to our friends and neighbors, some of whom say they have found the perfect device for their requirements. They appreciate the monitor's tilt adjustment feature so they can have comfortable viewing angles when changing sitting positions.
Acer 32" Curved 1920x1080 HDMI DP 165hz 1ms Freesync HD LED Gaming Monitor is specially designed for light gaming and it does the job well. The ComfyView, BlueLightShield, Flicker-less features also contribute to reduce eye fatigue and improve your eye comfort while gaming. Also, the Acer's monitor is also a budget-friendly one. If your loved one often complains of eye strain when playing games for long periods of time, this cheap Acer gaming monitor ​is the perfect solution.
Is the Acer 32" curved monitor good?
If you are interested in the Acer brand, you should think about buying a monitor, such as Acer 32" Curved 1920x1080 HDMI DP 165hz 1ms Freesync HD LED Gaming Monitor - ED320QR Sbiipx. Or you can check our Acer 32 curved gaming monitor 165hz review to be able to compare the screen quality of this model with other brands' products. First, Acer is known as a reputable brand in the electronics industry. They always update and improve technology to produce high quality electronic devices, including gaming monitors. They stay at the forefront of technology and enjoy constant product innovation to ensure customers enjoy the features. We bought two Acer laptops in the past and were very pleased with its performance and quality, so when we chose the Acer budget monitor, we had complete peace of mind.
What else? While many other brands price their monitors with additional and advanced features at premium prices, at Acer you can find an affordable option for you. Acer products are a combination of affordable and high quality. With the Acer 32 curved gaming monitor, you get smooth gaming features, accurate and sharp visuals, but you don't need to expand your budget to get it. You can adjust the tilt of this monitor for a comfortable viewing angle, and you can stand at different spots to see the screen clearly. Even better, this option has the ability to protect your eyes, reduce eye strain and increase eye comfort when you have to work with it for a long time.
So is the Acer monitor good? Are they as great as you've heard about? That's right, you'll get a great experience choosing this cutting-edge curved monitor.