Boost Mobile Wireless Carrier
Advantage
America's largest & fastest 5G network
No annual service contracts
Mobile hotspot
A wide selection of the latest phones from top brands
High-speed data, unlimited talk & text, and unlimited music streaming
Disadvantage
Coverage is not available everywhere and varies based on a number of factors
Boost Mobile Hotspot Service Reviews - Is It Really Worth It To Invest?
Boost Mobile has become a viable alternative for all cell phone consumers as it offers high-quality phones and unlimited cell phone options. As you know, Boost Mobile offers a prepaid service, which means that you are prepaying for the service you utilize. We have used Boost Mobile's services and they worked well, there is no hassle at all. Plus, there are no annual contracts between you and the provider, it's very convenient. If you continue using their services, you'll have to pay for them. Keep reading this Boost Mobile Hotspot Service Reviews and find your own answer to the question "Is Boost Mobile really worth it to invest in?"
Why to choose Boost Mobile company?
Boost Mobile company is best recommended for users who will benefit from limitless plans with a bundle of strong features. It is one of the most well-known and dependable prepaid phone providers out there.
99% nationwide coverage
There are many Boost Mobile Coverage reviews and most users are very satisfied with the quality of this service. The company has over 3,000 locations across America and partnerships with many national retailers. Hence, Boost is always on where you need it. Try it and discover a nationwide 4G LTE network with more coverage, much faster speed, and stronger signals.
Additionally, you can buy phone insurance with Boost Shield. According to Boost Mobile insurance reviews written by past cell phone users, their phone was protected and they felt the peace of mind with only $7/month (set at the time of publishing). The Boost Shield package will cover damage, including cracked screen, water damage, loss & theft, and out-of-warranty breakdowns.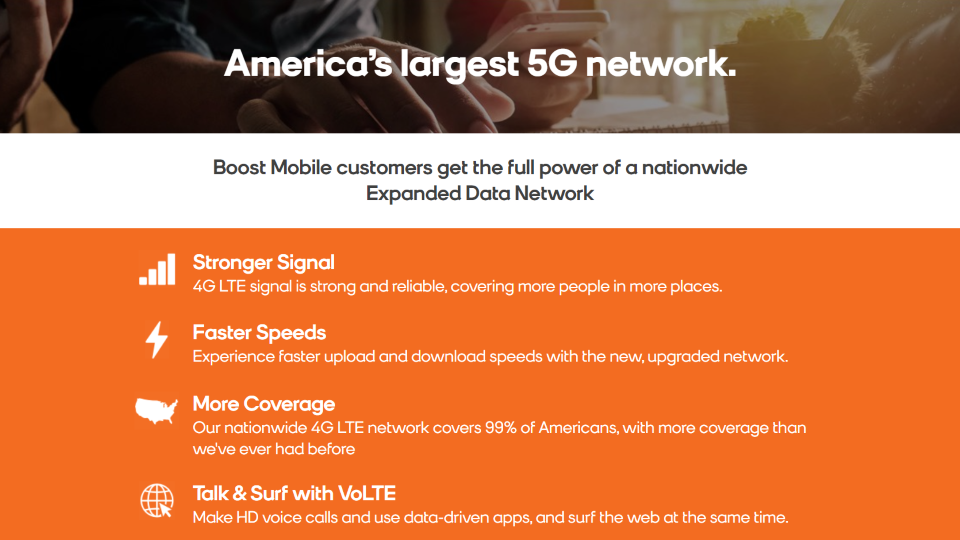 Boost Mobile Wireless Carrier Review by TopFreeReviews
No annual service contracts
This wireless carrier specializes in unlimited prepaid phone plans without contracts. It's ideal for cell phone users who don't wish to be locked into a complex contract. It means that Boost Mobile provider will never require you to sign a contract for your services, and you will never be forced to stay on any plan that requires you to stay on for an extended amount of time.
If you wish to cancel services or switch the provider, you just need to call Boost Mobile and inform them to cut off your services. In case you want to rejoin, similarly, contact them to resume the services you desire.
A wide selection of the latest phones
We're sure that everyone is curious about this. Boost Mobile has plenty of options for customers who want to purchase phones in-store and online. Most of their items are from well-known brands such as Samsung, Apple, Motorola, LG, and others. Many devices are on sale, so you can check the deal to update the latest offers.
When you purchase a phone and a plan online, you will first complete the checkout procedure before the product is shipped to your address. Of course, you can activate the service when you get the device.
Our Overall Impression of Boost Mobile Provider
We tried Boost Mobile's service for a long time in order to test it. We'd seen a lot of commercials for this provider, and we see their stores in my local area. Some say that they don't prepaid service but we have no problem with the services Boost Mobile provides.
We were able to get our phones shipped for free and they were to us in about three business days. We went online, got new numbers, and had the phones functioning well. We called Boost Mobile once simply to see how good Boost Mobile's customer service was. We found that Boost Mobile teams work professionally and enthusiastically as there are tons of positive Boost Mobile customer reviews on many forums and sites.
In the end, Boost Mobile is beneficial to us. It works when we need it and the phones are still good. Hopefully, our Boost Mobile Hotspot Reviews will assist you in deciding whether or not to try it out.