GENERAL ELECTRIC GTW330ASKWW 27 Top Load Washer
GENERAL ELECTRIC GTW330ASKWW 27 Top Load Washer - Remove The Sturdiest Stains And Get Your Garments Looking Fresh
What makes a good top load washing machine?
General Electric, also known as GE, is one of the largest home appliance brands in the US and was founded more than 100 years ago. With a wealth of experience and history, GE has always strived to create superior products to serve millions of homes around the world. Their innovations in large capacity washing machines also contribute significantly in cleaning clothes as well as protecting fabrics from tearing and fraying. If you're considering swapping out a washing machine for your home or retrofitting products to open a laundromat, GE washing machine or specifically GE® 3.8 Cu.Ft. Capacity Washer With Stainless Steel Basket is an ideal and affordable option.
The model of this General Electric top load washer is GTW330ASKWW and it is packed with many great features. Many people comment that this is the best large capacity top load washer with agitator from this big company but its price is reasonable. They have tweaked and offered the option of a heavy duty washing machine with a center agitator, a stainless steel wash basket, 11 wash cycles, and 6 temperatures. For those curious about energy efficiency, you can rest assured that this is an economical option that won't add up to your electricity bill by much compared to traditional options.
How did we experience the General Electric GTW330ASKWW 27 Top Load washer? Before buying this top load washing machine, we did a survey of current users to see what they had to say about it. The majority of survey respondents appreciated the GE washing machine's ability to clean and handle heavy loads. Excited with the results, we decided to buy it and did 2 washes in a row afterwards. On the first try, we just put the clothes in the washer. The wash basket is made of stainless steel material and the tub is quite large so they can handle a large load of clothes for our family including 5 members. Don't forget to read the GE 3.8-cu ft top-load washer manual so that you can use and adjust the wash cycles and temperatures accordingly. Although we tested many kinds of heavy-duty washers before, we carefully read through the instructions the company provided to know how to run the large appliance. And we found that the settings and dials were easy to follow. On the 2nd, we stuffed a large set of bed sheets into the machine to see if they did a good job. We wanted to check to see if the machine vibrates or makes noise. It is a wonderful machine. There was only a small amount of noise unlike other models we have tested, but all are normal operating sounds of the GE GTW330ASKWW top load washer.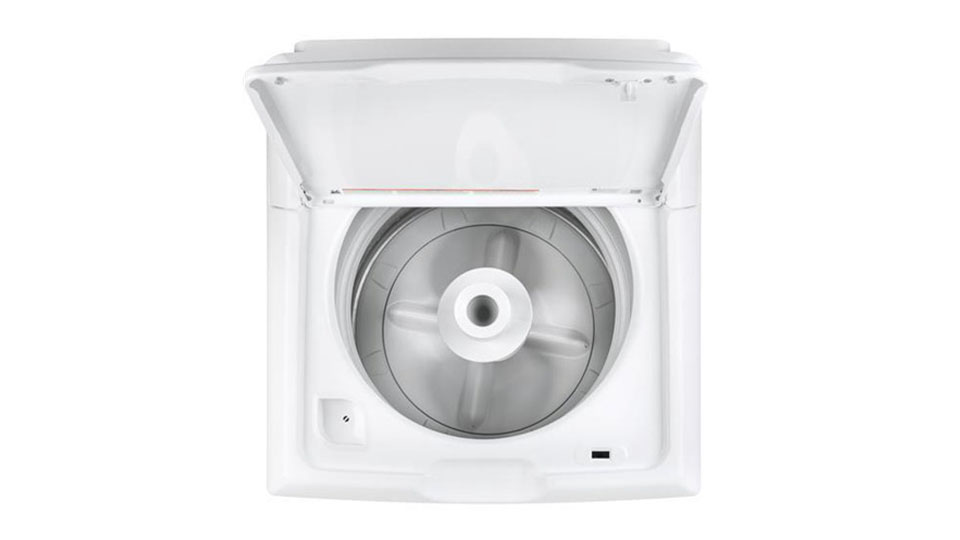 GENERAL ELECTRIC GTW330ASKWW 27 Top Load Washer Review By TopFreeReviews
In addition, GE washing machines are easy to use thanks to the rotary electronic controls with cycle status lights. The heavy-duty agitator is located in the middle of the tub and it rotates the items inside for a thorough cleaning. What's more, it has all the wash cycles we need, even when washing bulky items like sheets or comforters. Except for the spin cycle, you can open the lid of the top load washing machine when it is filling with water or you would like to add more clothes if necessary. As we mentioned above, this product has great temperature options for different fabrics that effectively removes stains, odors, and stains from clothes. It won't mess up the contents inside, so you can put both scarves and beanies in this washing machine instead of hand washing, and they dry very quickly.
GE top load washer is the best washing machine for heavy loads
This washing machine is very gentle on clothes that means even delicate fabrics can last longer if they are washed properly. With multiple wash cycles, you can choose the most appropriate cycle for each fabric to ensure that your clothes or heavy loads won't tear or fray after being machine washed. With superior features, you can comfortably put a variety of clothes into the machine without worrying about affecting the quality. In addition, the spin cycle of top-load high-load washers also removes more excess water than conventional models, resulting in shorter drying or air-drying times. This is also another way to keep your garments longer.
This GE washing machine also uses less water and consumes less energy per load. Maybe wash cycles could be longer, but they don't use as much electricity as you might think. GE® 3.8 cu. ft. Capacity Washer with Stainless Steel Basket also uses less energy when you use heat mode to clean clothes, too. In short, this option will save you in the long run.