JBL Endurance Dive Waterproof In-Ear Bluetooth Headphones
Advantage
Built to keep you up with the toughest workouts
Consistent sound quality
Waterproof design withstands runs in the rain
Offer a secure fit
Long battery life
Wireless headphones allow you to move much easier
Disadvantage
It's quite difficult to control
JBL Endurance Dive Waterproof In-Ear Bluetooth Headphones
JBL Endurance Dive Waterproof In-Ear Bluetooth Headphones are available to buy for $89.99, and we think their prices are not too expensive compared to what benefits they bring. They are water-resistant to IPX7 standards and are engineered with underwater use in mind. Even if you are running in the rain or doing the most sweaty workouts, the JBL Endurance Wireless Earbuds can perform excellently as long as you connect them to any compatible device via Bluetooth.
JBL Endurance Dive review: Things you should consider
Design
The JBL earbuds are connected by a single cable that sits around your neck when worn, which gives them a basic and clean appearance. These JBL Endurance Wireless Earbuds will gratify you if you like the earphones' PowerHook technology as much as we do. When you're not using the headset, the hook on each earpiece is designed to magnetically connect to the main earbud, automatically turning it off. It's a clever design that should help you save a lot of battery life. Finally, the Endurance Dive has IPX7 protection, which is rather expected given that these are swimming headphones. This means that the headphones can endure being submerged for up to 30 minutes at a depth of 1 meter.
Features
The JBL Endurance Dive Bluetooth headphones come with all of the capabilities you'd expect from a pair of wireless in-ear sport earphones. With an 8-hour battery life, Bluetooth connectivity allows you to play music directly from your phones or other devices. You can also make hands-free calls, albeit this will deplete the battery more quickly. A single button on the right-hand side of the earpiece controls both music playback and hands-free calling modes. One tap plays/pauses music, two taps skip forward, and three taps backward a track. During a call, however, one tap is required to answer/hang up and two taps are required to refuse. For example, JBL Endurance Dive volume control headphones enable you to connect Bluetooth and adjust the volume by using the single button on the right-hand bud.
If you try to utilize Endurance Dive's Bluetooth function in the pool, you'll quickly discover that the connection is inconsistent and that the audio cuts out frequently. But don't blame this fault for JBL, it's a restriction of Bluetooth technology. To address this challenge, JBL Endurance Wireless headphones have built-in MP3 players with 1GB local storage that can store roughly 200 tracks.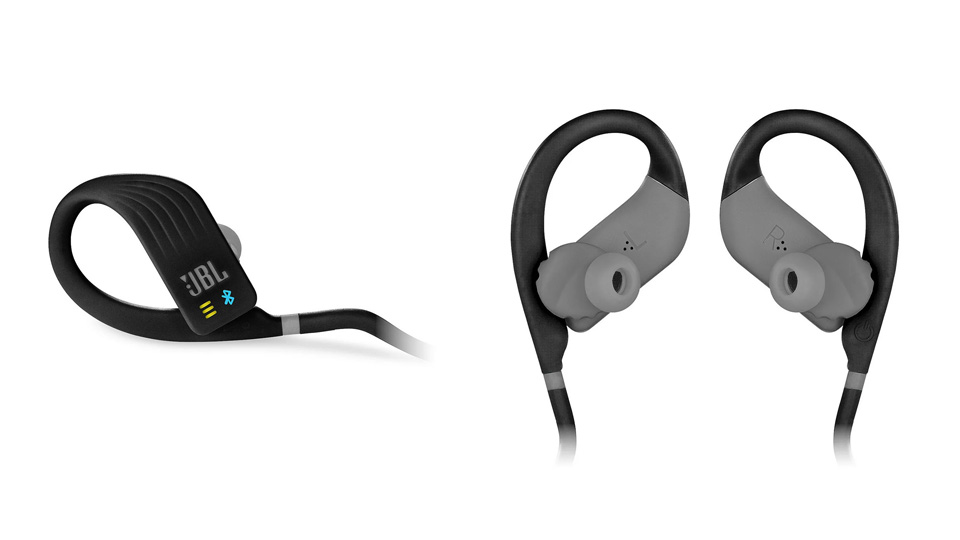 JBL Endurance Dive Waterproof In-Ear Bluetooth Headphones Review by TopFreeReviews
Performance and comfort fit
When we were testing the JBL Endurance Dive Waterproof In-Ear Bluetooth Headphones, the first thing that struck us was how comfy they were, regardless of what we were doing. They kept firmly in place while we were running, and the cable connecting the two buds rested lightly enough on my neck to be comfortable. In the pool, when we backstroke, the JBL Endurance Wireless earphones still stayed firmly in place. Furthermore, the sound quality remains steady no matter where you are, underwater or out in the open air. Because these earphones are created with swimmers in mind rather than audiophiles, they give everything you could possibly want.
JBL Endurance Dive Waterproof In-Ear Bluetooth Headphones Reviews: Our verdict
The JBL Endurance Dive Waterproof In-Ear Bluetooth Headphones are a lightweight pair of sport earphones with above-average sound quality. These gadgets also have amazing sound quality, fantastic functions, and a smart design.
We discovered that the JBL brand completed the tasks we requested while also producing excellent headphones. We tested and reviewed these products both in the pool and on land, and we believe they are devices that everyone, particularly swimmers, would like. We recommend obtaining these headphones as soon as possible because they contain all of the features you'll need for your workouts, including water resistance and long battery life. They're also comfy to wear while remaining secure, so they don't fall out when you do a lot of activities.