JBL Endurance Peak Waterproof True Wireless In-Ear Sport Headphones
Advantage
Lightweight and wireless
Enjoy the freedom of a fully wireless workout without the need to recharge the headphones for as long as 28 hrs.
Offer extra security and guaranteed never to hurt or fall out
Allow you to seamlessly control your sound or calls directly on the earpiece
Waterproof design
Wireless range up to 30-ft.
Disadvantage
Touch-sensitive controls are quite easy to misfire
JBL Endurance Peak Waterproof True Wireless In-Ear Sport Headphones - Provide Expert Design, A Comfortable Fit Plus Excellent Sound
The JBL company is always at the forefront of the wireless audio technology revolution, and the evidence is that they produce many of the best Bluetooth and wireless headphones available. One of JBL's most popular and outstanding products these days is the JBL Endurance Peak Waterproof True Wireless In-Ear Sport Headphones. Many people are considering the JBL endurance earbuds as a possible gift for their pals. Users also utilize these gadgets as compact, handy workout earbuds or for everyday use while out.
Who should get the JBL Endurance Peak In-Ear headphones?
This device is created for everyone, especially for athletes and other persons with active lifestyles. So, if you fall into this type of person, you can consider giving the JBL endurance earbuds a try. Everything about these earbuds, from their unique design, waterproof feature, and charging case to convenient touch controls, all of these features were made to meet higher and higher demands of customers. These JBL Endurance Peak True Wireless Sport Headphones are just right for sticking in before you start a workout. They use PowerHook technology, which allows you to turn on/off the device while wearing it. Furthermore, the magnet hook design keeps the headphones in the right place, helping you to concentrate on your physical activity without worrying about the buds coming out or drifting slightly out of position when you move.
If you don't work out very often or are seeking something compact and effective, this standout device is also good for you. It has superb audio quality, offers a comfortable fit, good value for money, and reliable connectivity. It has a wireless range of up to 30 feet, so you can move around your apartment or small gym without losing the signal.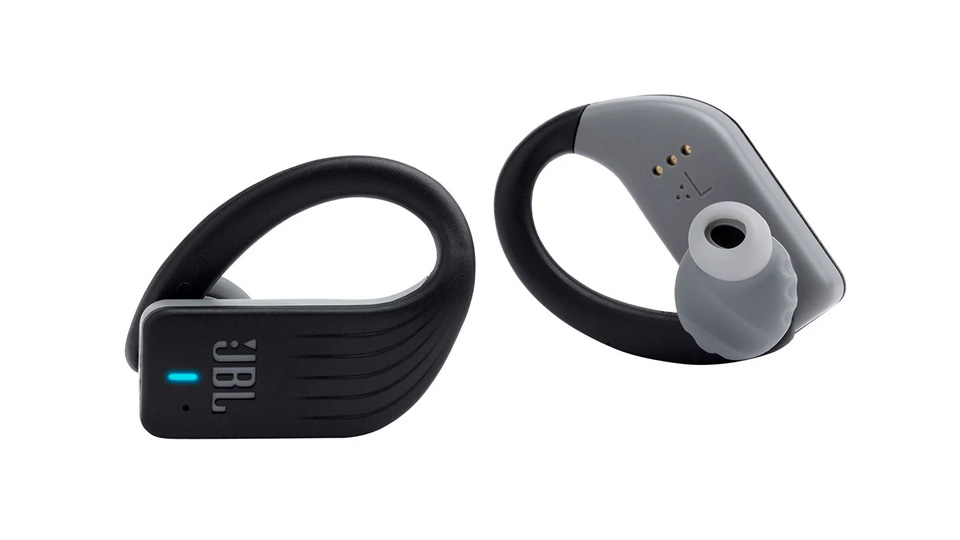 JBL Endurance Peak Waterproof True Wireless In-Ear Sport Headphones Review by TopFreeReviews
How we experienced the JBL Endurance Peak headphones
People have varied objectives and evaluating elements while shopping for wireless headphones. And in order to write this JBL Endurance Peak Headphones review, we had to consider all of the important features of this product that you might care about. We put these headphones to the test in order to help all customers learn more about the JBL Endurance Peak specs, price, and other details.
For our in-depth assessment, we first looked at their design. There are many individuals choosing earbuds or headphones that are aesthetic, attractive, or unique designs. You might be surprised as JBL Endurance earbuds are unlike many other headphones available out there. JBL Endurance Peak Waterproof True Wireless In-Ear Sport Headphones are chunky and bold in their design and structure. Each bud measures 2 by 1 by 1.25 inches (HWD) and weighs .2 lbs. Their unique design allows them to work more consistently than rival models, letting them stay securely in place while you're using them, even if you're exercising or running. They are waterproof too thanks to their IPX7 rating, this means that users can rinse them off or even submerge them in up to a meter in water without being damaged. Nevertheless, don't try this with the JBL Endurance Peak charging case because it isn't water-resistant.
Comfort and fit are so important. As stated earlier, these gadgets are designed to provide an amazing fit and comfort. We discovered that whether climbing, doing squats, or even playing sports, these headphones nearly never fell out. You may not be a fan of in-ear headphones, but we think you will be after you try these JBL Endurance Peak Waterproof True Wireless In-Ear Sport Headphones.
So, how's the audio quality? Of course, sound quality is one of the most important factors to consider when deciding whether or not these headphones are worth purchasing. We're happy to report that these models can work in both mono or stereo mode. The touch controls on the earpiece allow users to control their sounds or calls directly. JBL Endurance Peak Waterproof True Wireless In-Ear Sport Headphones provide the crispest, clear, and rich audio experiences possible. For example, the bass response on these devices is fantastic, so if you like deep, pounding music to keep you motivated during your workouts, you'll adore these earphones.
JBL Endurance Peak price isn't the lowest, but it's also far from being the most pricey. Well, with a price tag of $119.99 at the time of publication, the JBL brand offers a fantastic value for money that is suited for many people and appealing to a large audience. We highly recommend you use these headphones, and of course, they will not make you bankrupt.