JLab JBuds Earbuds Review
Advantage
Provide a crystal-clear listening experience for both phone calls and music
Long battery life
Ease of use
Lightweight and comfortable design
Durability and sweat resistance
JLab Earbuds Reviews - Best Wireless Earbuds For Constanty On-The-Go Listeners
After searching and reading a lot of JLab wireless earbud reviews, we understood why this brand is trusted by so many people. There are many reasons for us to choose Jlab earbuds as great companions during runs, fitness at the gym, or on trips. As you know JLab is a company that provides leading audio equipment in the US. So, are JLab earbuds good? The brand always strives to bring users authentic audio experiences with innovative, high-performance, and affordable headphones. Once again, the actual sweat resistance of JLab earbuds has made them some of the most sought-after on the market. Unlike many cheap products on the market, JLab earbuds impress with their fit, sleek design, lightweight, and also excellent battery life. Over the years, JLab built its brand by offering the best range of products at affordable prices. Hence, JLab wireless earbuds are a valuable alternative to other more expensive models. After trying them out for a while, we found that the noise cancellation level of JLab's earbuds is also very good. We can enjoy music, take calls, or listen to the news without being affected by outside noise. Obviously, the loud and deep sound makes these models more enjoyable when practicing or having an important call. Moreover, we did not feel any ear pain when wearing JLab earbuds for a long time.
JLab JBuds Air Executive True Wireless Earbuds - Best All-Rounder For Music And Phone Calls
After evaluating a wide range of headphones, our testing team decided to compile this JLab JBuds Air Executive True Wireless Headphones Review to help others know more about the product and make an informed decision before making a purchase. Plus, JLab JBuds Air Executive True Wireless Earbuds also works like a typical product in the models of this prestigious brand. Are you ready? Let's see if they match your requirements.
Why should you choose the JLab Wireless Earbuds?
We've tried to find the perfect headphones or earbuds for workouts and travel for several months, and JLab JBuds Air True Wireless Bluetooth Earbuds surprised us the first time we used them. Quite frankly, they work better than its price, $69.99 set at the time of publishing. Before testing these devices, we don't think that cheap buds could give us such a great listening experience.
30 hours of Bluetooth playtime
First, you will have 30 hours of Bluetooth playtime with this item, including a 6-hour battery life for each bud and 24+ additional hours in the case. So you can utilize it all day for different purposes. The JLab Wireless Bluetooth Headphones also come with 3 pairs of gel eartips, in small, medium, and large, as well as cloud foam eartips. All of them are engineered to protect your ear from irritation and pain. It is especially ideal if you wear them for workouts, running, or walking. The manufacturer offers earbuds with upgraded dual microphones that allow you to pick up and cancel external noises while picking up your voice (if you have a phone call) for a clear conversation.
Clear phone calls
We've utilized JLab JBuds Air Executive True Wireless Earbuds and waited for three months before writing this review. And we have not experienced any bad issues with these headphones yet, they worked as advertised and performed flawlessly. The sound is excellent as it features stereo audio and C3 Calling (Crystal, Clear, Clarity). Our testing members tested these earbuds by making phone calls while wearing them, and as a result, they worked admirably when we did. We inquired about the sound quality with one of the people we were speaking to, and she stated that it was fantastic. On my end, the sound was excellent, too.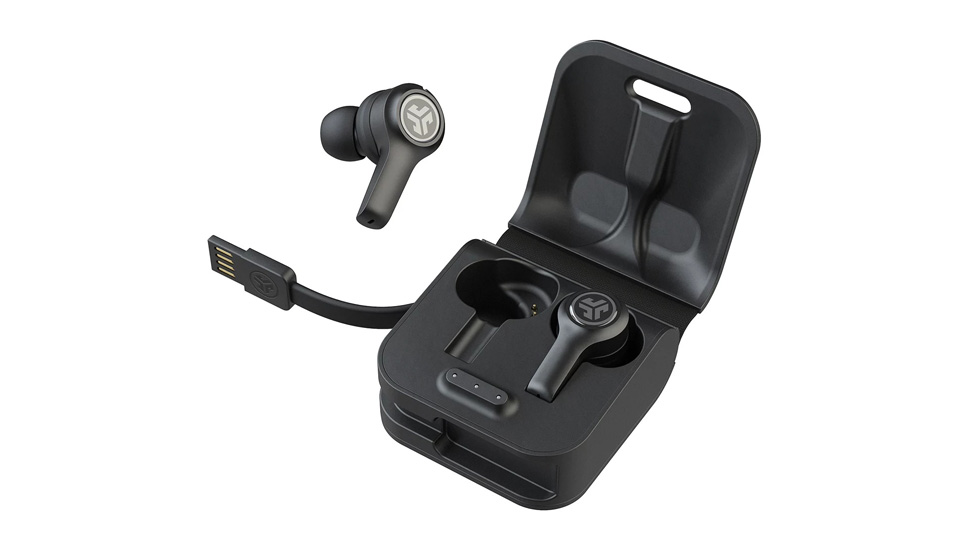 JLab JBuds Air Executive True Wireless Earbuds Workout Headphones Review by TopFreeReviews
Ready to charge
You may love these JLab JBuds Air Executive Earbuds when we refer to this feature. When you put the workout headphones in the case, they begin charging automatically. The case will recharge with the USB charging cable. The earbuds will immediately turn on and connect to each other as soon as you remove them from the case, as well as instant connect to your phone and other devices. Choose the sound between three available EQ settings, they are Signature, Balanced, and Bass Boost which match your preference with an app. What's more, the headphones are constructed with IP55 sweat resistance, so you can rely on their durability. If you are sweaty, love working out or traveling, this is a perfect selection. Their fit inside your ear is so amazing and they don't fall off even when doing workouts or running.
Is JLab a good brand for wireless earbuds?
JLab is among the big-name manufacturers of Bluetooth earbuds, headphones, and speakers. Founded in 2005, JLab is now a premier technology firm and the No. 1 accessible genuine wireless brand in America. Their objective is to improve your life by providing excellent sound, inspired design, and cutting-edge technology at a low cost. They want to fill you with positive energy and inspire you to get an active lifestyle.
The company creates great budget-priced earbuds and headphones, making it a favorite of individuals on a tight budget as well as those who need top-notch quality. Their product line includes an assortment of devices to meet a wide range of preferences. You can simply discover the ideal JLab earbuds for your needs here, from wireless Bluetooth technology to regular old wired in-ear headphones. Their customer service in the industry is excellent, and this is an absolute must to consider when purchasing any product. We also see loads of 5-star JLab wireless earbud reviews on the internet, so you absolutely have the basis to see if they are suitable for you or not prior to deciding to buy.
If you really enjoy this brand and are looking for good headphones to keep you going for travel or business, try JLab Workout Headphones right now. We hope our JLab JBuds Air Executive True Wireless Earbuds is useful for you.