Maytag MVWC465HW - Washing machine
Advantage
Release stubborn stains efficiently
Enough room to tackle big, hamper-sized loads
Wick moisture away from clothes and resist wear and tear
Leave no excess detergent and fabric softener
The Wash Basket is durable and stainless steel
Maytag MVWC465HW - Washing Machine: Effective, Efficient, And Simple Top Load Washer
An attractive top load washing machine
Get yourself a Maytag Large Capacity Top Load Washer With The Deep Fill Option MVWC465HW to make cleaning clothes much easier. Not only that, this appliance makes your clothes cleaner, washes faster, uses less electricity and makes less noise. Unlike front load washers, the Maytag 3.8 Cu. Ft. top load washer MVWC465HW does not require you to bend your knees to put clothes in or take them out of the machine. It has a large load size with a PowerWash agitator that is suitable for large loads of clothes. Either way, Maytag always offers great and modern choices for the family.
Have you ever put clothes or heavy loads in the washing machine and then sit back to watch something on TV or your phone? And you are so absorbed in watching a movie that you forget you put your laundry in the washing machine and had to take it out to dry? That happened to us. But with Maytag top load washer with agitator, we now don't have to worry about whether it can clean our comforter. It has great power, runs quietly, and the control buttons are easy to understand so we get a good job cleaning our garments. The spin cycle is also quite fast and removes as much excess water as possible, saving drying time and better protecting the clothes. We once forgot to take our clothes out after washing but they didn't smell like we thought they would.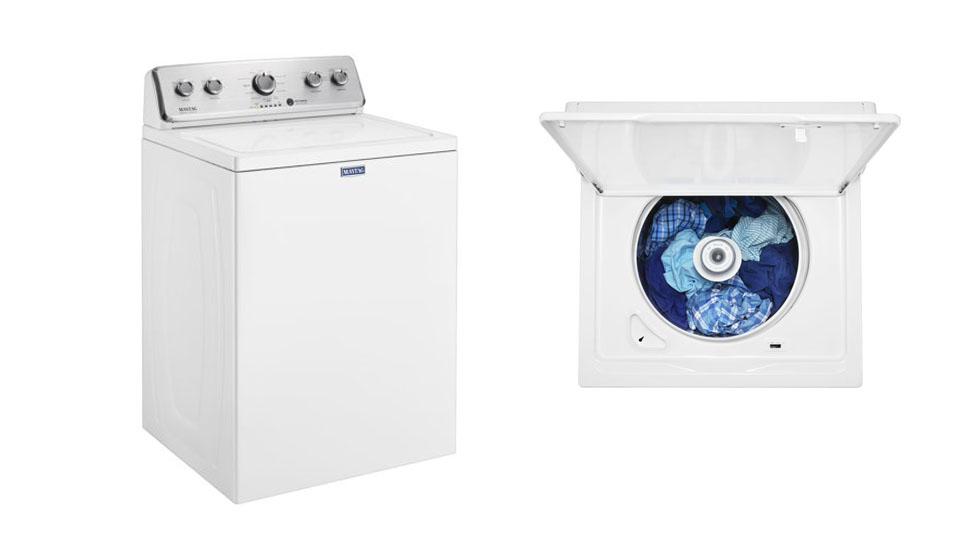 Maytag MVWC465HW - Washing Machine Top Load Washer Review By TopFreeReviews
Designed in striking white, this is one of the stylish models we've seen from Maytag. This product is very suitable if you have small children or pets at home because they will not be able to open the washing machine door while it is in operation. This can give you complete peace of mind about safety. With a large capacity, the washing machine has enough space to handle large loads. The son of one of our colleagues is only 4 years old, and he is very active. As a result, the boy's clothes are always dirty every time he goes out. In one test, we used the boy's clothes with dirt, cream, and ink stains to see if the Maytag model MVWC465HW could remove these stains. To our surprise, the stains completely disappeared as if they had never existed. The central agitator has a concentrated effect on stain removal and effective cleaning. After the washing cycle stopped, we also did not see excess detergent or fabric softener thanks to the deep wash option built into this product. Another thing we like about this product is the very durable wash basket made from stainless steel. This unit can absorb moisture from your clothes and can serve you for many years to come. However, some people say that many top-loading washing machines from other brands such as Whirlpool or GE also use this material for their wash baskets. Hence, you can rest assured about the durability of this appliance.
Maytag washer MVWC465HW reviews
Maytag is a well-known brand in the field of manufacturing heavy equipment that helps users get the job done better. That is also why we choose the Maytag top load washing machine for testing and evaluation. We tried this item for a few months and were pleased with the test results. If you want to wash large comforters like King or Queen size, this top load washing machine can satisfy you. You won't need to pre-treat the stains before washing, let the washer do on its own. To be honest, we didn't put too much wish in this product before testing it. But it took us by surprise. You may be surprised at its ability to remove stains such as red wine, oil stains, etc. from your clothes.
Maytag top load washers are as efficient as some of the best front load ones. Although the washing cycles are quite long, they use less energy and water, which is also a way to save you monthly bills. Thanks to the vertical design, the water flows in and out of the washing machine quite quickly and simply. In addition, after the end of the wash cycle, they will not hold or reactivate the water at the bottom, avoiding causing unpleasant odors and mold on the clothes. Therefore, cleaning the Maytag MVWC465HW washing machine is also simpler.