Phone.com Wireless Carrier
Advantage
Work from anywhere
Provide excellent service
Get more efficient
Unparalleled support
Long-term commitments
Disadvantage
Video conferencing is only available for an added monthly fee
Phone.Com Reviews - User-friendly Interface With Great Customer Service
User experience
Phone.com subscribes to a "plug it in and it works" strategy like many other VoIP providers. Phone.com offers customers around 25 different models of desk phones and conference phones in addition to adapters from vendors including Cisco and Polycom. What we do know is that Phone.com ships them pre-configured to customers. The provider also makes free mobile apps for Android and iOS, as well as the Phone.com Communicator desktop app for Windows and Mac.
When customers sign up for a Phone.com account, they can choose a custom phone number with a local area code, along with options for a toll-free or virtual number. Phone.com also sells international phone numbers along with additional international dialing rates by country.
After exploring the Phone.com dashboard, we found that it is laid out in a similar and simple way as that of Residential 1-VoIP with account information, feature buttons, and settings available within reach. user's hand. Many people commented that the Phone.com user interface is much less cluttered and modern than what you will find in other providers' interfaces.
When we do the first Phone.com Login, the first thing we see is the top navigation bar with four basic tabs: My Account, Configure, Call-Info, and Support. Below are some key statistics about our account usage. The My Usage header gives users quick numbers on minutes spent and minutes remaining. Button to view Call Log and My Invoice header help us to know current account balance with options to view and pay.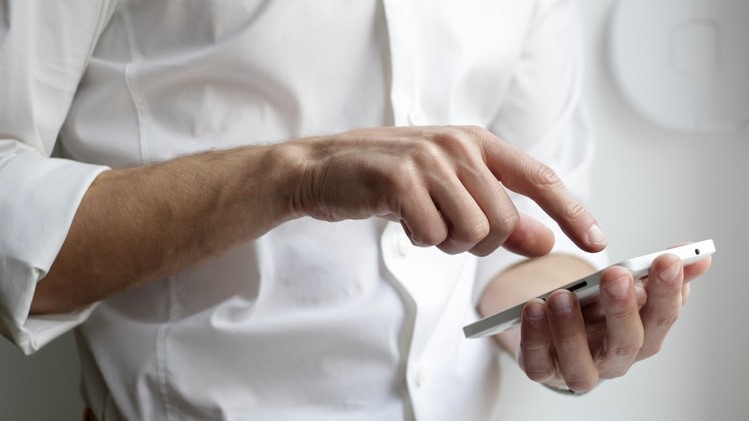 Phone.com Reviews By TopFreeReviews
We hit a dial pad with feedback buttons below the account information to go straight to the main features. From here, we can click directly on numbers, call routing presets, caller analytics, queues, greetings, and schedules. We also manage things like call routing presets and call blocking. Finally, to set your default extension, you have a quick drop-down in the top right.
Most of our test team members found Phone.com's key calling features to be easy to set up and intuitive to use, especially on mobile devices. My credentials were quickly authenticated through an automated call to my device after I downloaded the Phone.com MobileOffice iOS app and I had to enter the code. The Phone.com App's interface is laid out like the iPhone phone app: with favorites, recent, keyboard, contacts, and voicemail buttons at the bottom. I clicked on the menu icon in the top left. A much larger navigation menu appears with additional features including messages, faxes, blocked numbers, settings, conferences, and FAQs.
To check some call forwarding, voicemail, and notification settings, I go to Configure from the desktop UI. Then I go to Manage Users and Extensions and click the edit button next to my extension. Users can select the number they want to appear when making outgoing calls from softphones and choose from a list of standard voicemail greetings. I started receiving periodic emails and texts with audio files with voicemail recordings from test calls and messages sent through my account after entering my email address and selecting SMS text alerts notification options when I receive voicemail.
We recommend using Phone.com
Phone.com has become increasingly popular for providing voice-over IP (VoIP) and cloud-based telephony services designed for small businesses. The majority of Phone.com's customers are companies with fewer than 20 employees. This service provider packs many call center, telephony, and management features into a simple user interface and at a competitive Phone.com pricing. While its VoIP feature set isn't quite outstanding and we don't get the kind of productivity and team collaboration features built-in, we're still very pleased. One of the biggest reasons for satisfaction is that Phone.com offers an ideal combination of VoIP functionality and simple usability for small businesses that don't need more.
Phone.com gives you 300 minutes per month for the Basic plan at $10.39 with Billed Annually Save 20% or Phone.com Coupon at the time of publishing. The Plus plan is $15.99 per month and the Pro plan is $23.99 for no time limit. Please note that applicable federal and state taxes and fees will be added to the user's monthly bill.
We've found that all plans are subject to fair use limits for voice, text, and video. However, if you want more information, refer to the Terms of Service. We'd like to stress that Unlimited Business SMS is limited to Person-to-Person SMS and App-to-Person SMS is available for an additional fee.
Another thing to keep in mind is that minutes over the Basic plan limit will incur an average fee. However, each user of the basic plan gets 300 minutes of calls included and can be pooled among users in the same account. This is a benefit that customers get when using Phone.com. When usage exceeds those limits, Phone.com will bill the standard rate.
Phone.com Customer Service team must enable international calling for customer accounts to protect against international dialing fraud. Phone.com requires a $200 upfront payment before international calling is enabled for most monthly accounts. Hope our Phone.com Reviews are helpful!