Ryobi 18V One+™ Hybrid Fan P3320
Advantage
Suitable for both indoor and outdoor use
Compact design with integrated handle to maximize portability
Ryobi 18V One+™ Hybrid Fan - P3320: The Great Enemy Of Summer Heat
The heat of summer is escalating, threatening to torture many households with countless nights of sleeplessness. Such a horrifying script will not happen if your family possesses a strong heat-killer like the Ryobi 18V One+™ Hybrid Fan-P3320. Ryobi has always tried to offer the most satisfying experience for users with its pro-featured power tools and outdoor, affordable items. Its constant improvement and innovation have helped the brand obtain international fame, turning it into a reliable manufacturer that millions of homeowners turn to. With its latest product - Ryobi 18V One+™ Hybrid Fan-P3320, Ryobi continues to satisfy customers who are in need of a power-based machine that can cool off the intensifying summer heat. What makes this hybrid fan so impressive and outstanding?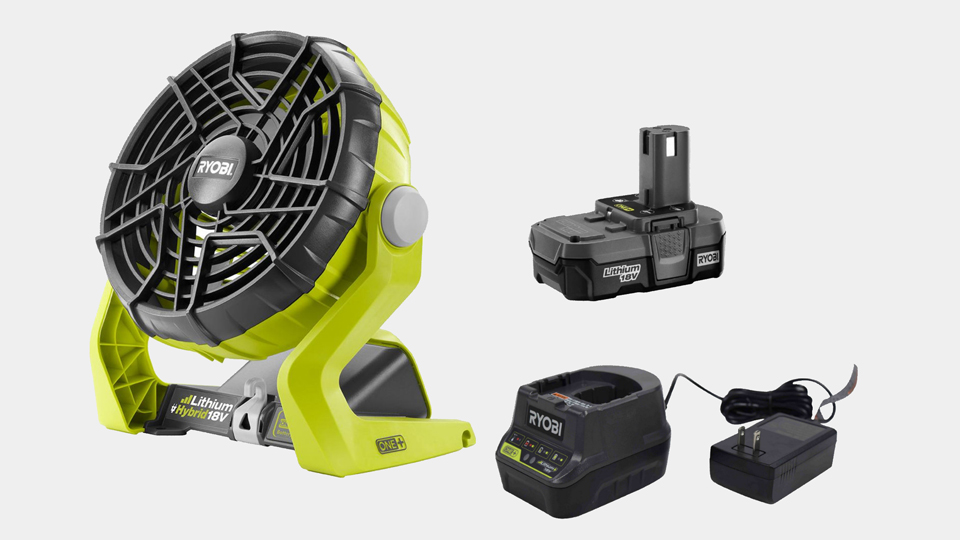 Ryobi 18V One+™ P3320 Portable Fan
Features
What can you use to run the fan?
With this latest innovation, Ryobi offers you two choices: using a ONE+™ battery or utilizing electric power. You can run the fan with either of these two choices, but using an extension cord to switch the fan to electric power mode allows for extended use. This feature ensures that the Ryobi run time is at its best since you will never have to worry that it will run out of power.
What kind of battery goes with the fan?
The Ryobi P3320 is compatible with any 18V ONE+™ battery. For better performance, you can upgrade to Ryobi 18-volt one+ hybrid portable fan kit with 2.0 Ah lithium-ion or LITHIUM+™ batteries. The lithium-ion or LITHIUM+™ batteries will boost the fan's productivity and make it lighter at the same time.
Is the fan easy for transport?
The flexible alteration from the battery to electric power also helps you optimize the fan's portability, enabling you to use the fan both indoor and outdoor. With the back bracket, hanging hook, and mounting hole, Ryobi 18V One+™ Hybrid Fan - P3320 can be hung anywhere in your garage, acting as a perfect cooler in your home.
A Compact Design
The head of Ryobi 18V One+™ Hybrid Fan - P3320 is adjustable, meaning you can tilt up and down its head to fit your position. Associated with its portability for indoor and outdoor use, you can ensure that the fan will provide you a cooling experience anywhere, at any time.
What about its speed?
Like any other power-based fan, Ryobi 18V One+™ Hybrid Fan - P3320 stays within three levels of speed: low, medium, and high. However, even at the low speed, you can still feel the airflow at 12 feet away. Upgrading it to the high level, the airflow can be felt up to 20 feet away. Such performance guarantees the best experience even when you put the fan far from you.
Things to avoid when using a Ryobi 18V One+™ Hybrid Fan-P3320
One thing to remember when it comes to any electric-based product: Never let your familiarity with them make you careless. If this product is not fully assembled or any part of it goes missing, don't use it. It can pose an unexpected threat to your safety. Also, do not try to attach any accessories beyond the recommended use to the fan. Such an unnecessary modification can lead to the fan's malfunction, thus causing unwanted damage to both the product and the user. Another important thing is you need to ALWAYS remove the battery or unplug the extension cord when assembling the fan's parts, cleaning, making adjustments, or when the fan is not in use. This action serves as a precaution that prevents accidents or injuries.
Is the Ryobi 18V One+™ Hybrid Fan - P3320 worth a try?
With all the advantages it provides, I can not see why you shouldn't give this Ryobi mini fan a try. The only thing you need to consider is the fact that this fan is sold separately, meaning there will not be a charger or battery accompanying the product. However, this seeming disadvantage comes with a perk: if you already have your ONE+™ battery collection, you will not need to spend an additional amount to buy these items. Once you buy the Ryobi fan combo (with chargers and batteries), you will realize that the product you purchase from Ryobi in the future will be much cheaper.