Skillshare Guitar Course
Advantage
Get inspired, learn new skills
Various courses
Many styles come from different instructors
For all skill levels
Skillshare's mobile app
Skillshare Online Guitar Classes - Best Place To Learn Top-Notch Guitar Courses From Leading Experts
Why should you consider purchasing Skillshare guitar courses?
Skillshare is a top-ranked e-learning platform that provides learners with immediate access to a variety of lessons on a wide array of topics. Skillshare online guitar classes let eager students master guitar theories, get new skills and techniques that are required to become a guitarist.
Self-paced classes
Isn't it wonderful to be able to learn to play the guitar at your own skill and pace? With these best Skillshare live online guitar lessons, you can do exactly that. You can choose the right course that meets your preference and suits your level. You can choose guitar programs for newcomers, intermediate, or seasoned players. There are various courses that are appropriate for different skill levels.
You just filter and search the course for your target skill, and then opt for the right one. Many classes like Music Theory 101 For Guitar, Learn Guitar: The Complete Beginners Guide, or Guitar Fundamentals: Learn Quick with Mike Boyd attracts thousands of students to access.
The teachers, who are experienced in this field, will show and guide you via video lessons. All of them are designed and created well to help students view clearly and learn more efficiently, including high-quality videos and sharp images. If you have your favorite Skillshare guitar lessons, you can get started immediately. We advise you to choose the best online guitar lessons for beginners if you have no idea about this instrument because it is will help you learn advanced techniques much easier afterward.
When testing this platform, we chose the Guitar Fundamentals course of Mike Boyd as there were 16,889 students who took part in this class. The number is determined at the time we tried this course, and now it may be increasing. Yeah, the teacher taught us everything that we had to do when the first time accessing guitar, like how to hold the instrument, tune the guitar, chord diagrams, and much more. He also explained why we have to keep our fingernails trimmed when playing guitar. The teacher is so funny and enthusiastic.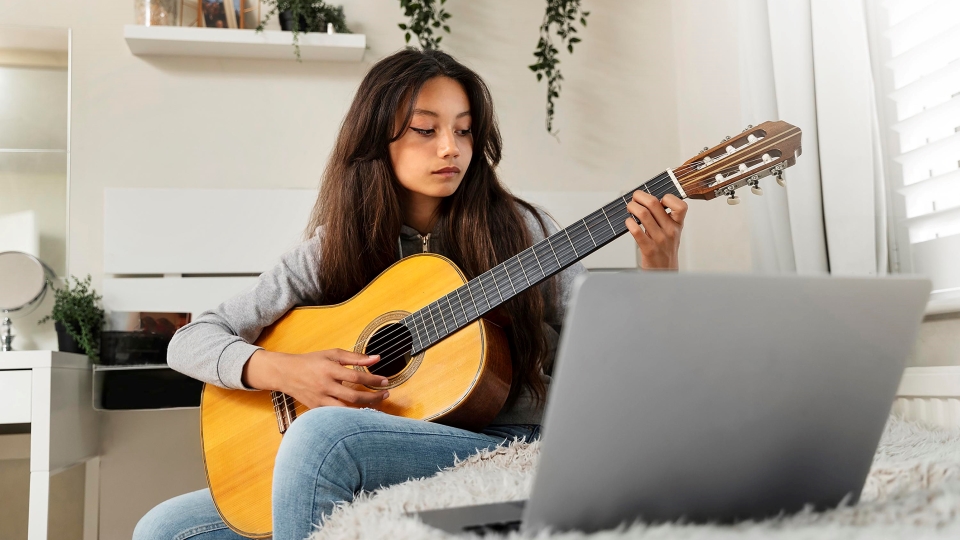 Skillshare Guitar Course Reviews by TopFreeReviews
High-quality course content
The amount of content that is included in Skillshare is enough to draw all learners' and guitarists' attractions and help them perfect their skills. The platform offers a 7-day free trial with unlimited access to thousands of courses. Coming to the best free online guitar lessons, you can take advantage of a 7-day free trial that Skillshare provides to find the finest ones.
Take classes with different content, such as Fingerstyle Guitar, Music Theory: Notes, Scales and Chords, Acoustic Guitar, etc. to learn more about this awe-inspiring instrument. These online lessons will help enhance and develop your skills, so you can play complete songs with the guitar.
Professional instructors
We admitted that there are many best free guitar courses on YouTube and other popular channels, but they are not enough. You need a teacher to guide you from the music basics, fundamentals to complex concepts. You need an experienced person who guides you on how to hold or play the guitar, and much more. That's why you should enroll in Skillshare courses.
Skillshare's lecturers are guitarists, experienced musicians, experts, and industry stars. They are eager to offer their knowledge, experience, and fundamentals about the areas you are interested in. In addition, the platform displays the teacher's profile under the course so that students can learn more about him/her. To make students feel more confident when attending online lessons, Skillshare lists the professors' experience and awards.
To wrap things up
Almost anyone can benefit from taking Skillshare online guitar classes. The instructors are both amusing and informative, and they go over every element to help you acquire the ability and talent you wish. Also, you can access guitar classes at your own pace and in different ways.
Skillshare is a great option if you want to improve your guitar skill quickly. Join an online learning site like Skillshare to get started develop yourself. You will feel more confident when trying to play guitar at home where no one can hear you. You'll also become friends with other excellent guitarists with whom you can share your guitar-playing problems and work out a solution together. We recommend you participate in these excellent courses.