Tinder Dating App
Advantage
Photo verification
Plenty of choices with users in different continents
Tinder – Global Online Dating App
Tinder is a pioneering app in the virtual dating market which is extremely popular with the younger generation. It attracts people by customizing a lot of remarkable features that help them access easier. If you are a free user, it allows you to send and receive messages, video calls, and so on. For premium services, like Tinder Gold™ or Tinder Plus®, it serves a variety of advanced utilities like Unlimited Likes, Rewind, Passport, etc.
Tinder functions quite simply, you just swipe to indicate who you are interested in. Tinder is an online dating application on mobile devices, helping to connect people in different nations. It works on the principle of GPS positioning, scanning people using the same app so they can match to make friends and even date. Tinder provides easy use, all you need is to add personal details and then swipe to match, chat. If you like someone's picture you just swipe right to say "Like" or swipe left to skip. Tinder will continuously update the images of people using the same app near you to help you connect with them.
This app does not distinguish age, gender which allows anyone to register this dating app. At Tinder, anyone can find love from strangers by easily getting accustomed and quickly striking up a conversation to come closer to a certain relationship. Tinder is an open environment where you can update your information and it will help you find people around with common age, gender, and personality, etc.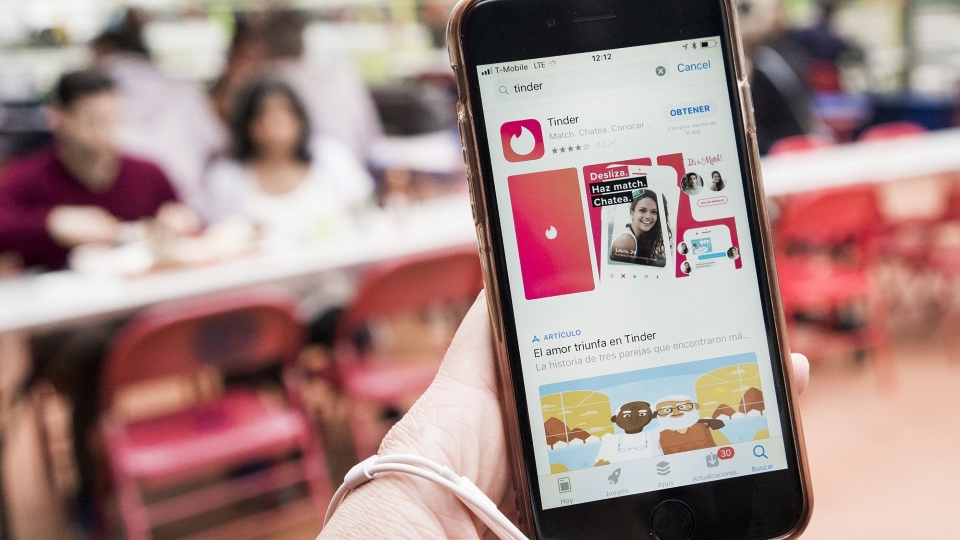 Tinder Online Dating App
The exceptional app
Face-to-Face utility
We're all eager to meet new people, but we have to put safety first during the COVID-19 pandemic. Face to Face function lets users have a video chat with their match so they can keep the connection in an online environment.
You may be a lonely person or someone afraid of socializing, so you can communicate with millions of people through the Tinder app just at home. When you want to meet people whether you're visiting New York City or Chicago, Tinder can be good at that. Tinder is your go-to travel buddy because it can take you to hundreds of countries.
Is Tinder safe to use?
Photo verification is designed to verify that you are exactly the person in the photos. When you meet people whose profiles have a green checkmark on their pics, you can assure that they are "real people, real things". Tinder does not offer to send photos to each other, so it will avoid the behavior of sending bad photos to others.
Friendly interface
Tinder uses yellow, white, and pink as the primary colors which are friendly colors giving users a sense of security. More and more people are coming to Tinder because of its user-friendly interface. Therefore, the chance of matches is higher that leads to the opportunity to date and become a couple. On the other hand, you should notice that in reality, some people use Tinder not to find love but to find a one-night stand to satisfy their needs, find FWB (Friend with Benefits), etc.
Sign up for a Tinder account
Currently, Tinder is supporting two operating systems of platforms Android and iOS, you can access Google Play for Android or App Store for iOS and search by keyword "Tinder" and then download as usual. After downloading Tinder, open it and select "Create a new account". Then you enter your mobile number and enter the 6-number code that the phone sends you. And follow the instructions to get another 6-digit code. Click "Got it" to agree to the terms of Tinder. Note that you must follow this rule if you do not want your account blocked.
How to create a personal profile on Tinder?
Creating a profile on Tinder is straightforward when Facebook does most of the work in advance. After logging in through your Facebook account, your photos and preferences will be automatically imported into your Tinder profile, you can also choose the desired picture as well as the order of the existing photos. With a Tinder profile, images are the most important factor to choose the best photos of yourself. You should use a minimum of 3 photos or more because a study has shown that, with profiles of a person with 3 or more photos, there is a much higher frequency of "matching" than 1 image profile.
Things you need to consider when using Tinder
There are a lot of youngsters who got married or have a lover who wants to find someone to chat with or develop another relationship with. We all know this is a community app, so it's common for them to come here to find new experiences, so don't expect too much to be foolish! If you are bored with the free features, you can choose Tinder Plus or Tinder Gold. The "Likes You" allows you to see all your friends, "Unlimited Likes" to swipe right, "Rewind" for you to undo your last Like or Nope, use "Passport" to go anywhere in the world to find friends online outside your zip code, boost your profile to the top for thirty minutes to draw more attention, 5 Super Likes per day for someone you like.
Available packages
Tinder Plus® subscription allows users to unlock functions consisting of Unlimited Likes, Rewind, Passport, 5 superstars per day, and Boost. Tinder Plus® price starts at $9.99 per month and one-month, 6-month, and 12-month packages are currently available. The Tinder Gold™ price starts at $14.99 per month, and one-month, 6-month, and 12-month packages are available. If we don't choose to purchase Tinder Plus® or Tinder Gold™, we can simply continue using Tinder for free.