EcoFlow DELTA Power Station
Advantage
Huge 1260Wh capacity
Fastest charging power stations
Power up to 13 devices simultaneously
Fastest recharge by solar and car
EcoFlow DELTA Power Station: The Landmark In Both Design And Function
Portable power stations have entered the scene to replace loud and expensive gas-powered generators. Regarding high-quality power stations, EcoFlow DELTA reigns supreme with its advanced features and compact design. On many retail websites, the 5-star votings for this product outnumber the negative comments, suggesting that this EcoFlow DELTA Power Station has won the affection of many users.
In this article, we will dive deep into the specs and details of this product to give you an unbiased and genuine EcoFlow DELTA review. We hope that this review article will provide you with a better understanding of what this device can offer and what you should notice when using it.
What we love about the EcoFlow DELTA
Compact and elegant design
Gas-powered generators are cumbersome. They also take up a lot of space in your car, leaving little room for other essential appliances you want to bring to the camping site. The EcoFlow DELTA is a perfect answer to this troubling issue. With its super compact and portable design, this EcoFlow DELTA Generator takes up a humble amount of space; and every space it saves translates into more room for things and appliances. Moreover, this power station is covered in a black and sleek finish, making it super cool and resistant to smudges and stains.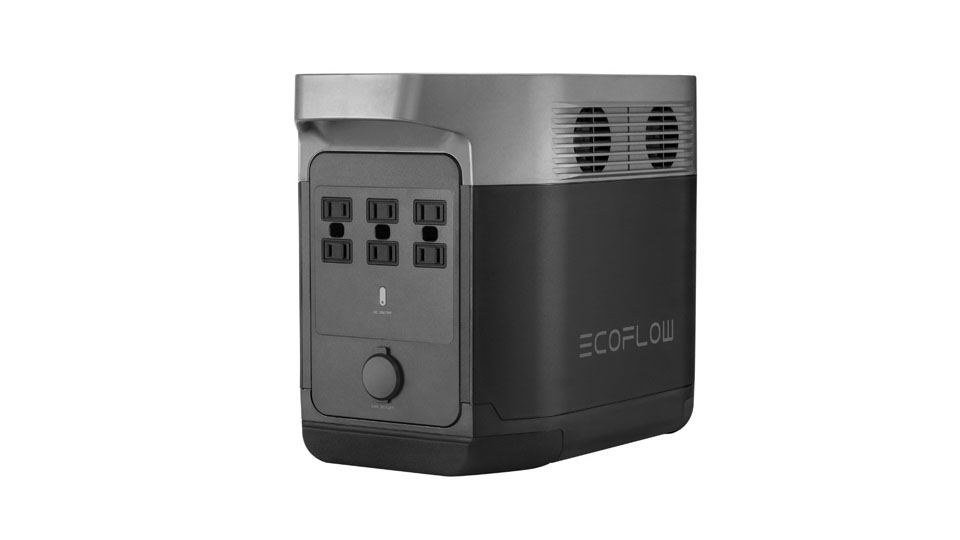 EcoFlow DELTA Portable Power Station Review by TopFreeReviews
Compatible with multiple appliances and gadgets
This unit packs a massive 1300Wh battery, which turns it into a home generator. You can stay powered for hours and hours with numerous devices and gadgets that can be charged by this power station, from home appliances to heavy-duty DIY tools under 1800W.
The EcoFlow DELTA 1800W outlet also meets the standard of any wall outlet in your home, making sure that you'll feel at home even in the case of a blackout. It can power up to 13 devices simultaneously, enabling you to have a brewed cup of coffee, listen to your favorite radio music, or even watch a movie, etc. The DELTA possesses so much power that you can even use it as an emergency backup for your electric vehicle, which gives you more miles up to 7.5 on a single charge.
Fastest charging
Ecoflow River Solar Power Rechargeable Portable Power Station also prides itself in its world's fastest charging capability. It takes under one hour for the DELTA to charge from 0-80%, which is a mind-blowing innovation when compared to the charging time of other portable power stations. Such a superior charging capacity allows a quick boost of power even during a sudden blackout and power cut. You'll never have to be away from work for too long, either.
Recharge from various sources
EcoFlow DELTA can be recharged in three ways, and the first one is using solar power. You can connect DELTA to three 160W solar panels to fully charge it within 3.5 to 7 hours. Or you can use the 110W solar powers to fully charge the device in 4-8 hours. Another way to recharge is using a car adaptor or wall outlet, which takes 4-8 hours or 1 hour for a full EcoFlow battery, respectively.
Our final verdict
The highly advanced EcoFlow DELTA power stations wow us in many aspects, but we were most impressed by its ability to charge on short notice. This feature maximizes our efficiency in working and saves us much time waiting for a boost of power. Its actual capacity can be a little below advertised, but the difference is not significant, and you should not worry about it. Overall, our testing team has not much to complain about the EcoFlow DELTA's performance, and we would love to recommend this product to anyone in need of a robust power station.