First Response Early Result Pregnancy Test
Advantage
Sensitive enough to detect all forms of the pregnancy hormone
Give early results
Over 99 accurate
Scan results for free with the EasyRead App
Read your result in just 3 minutes
First Response Early Result Pregnancy Test - Best Home Pregnancy Test With Over 99% Accurate And Easy To Read Results
First Response Early Result Pregnancy Tests are now chosen by many women because they are convenient and provide the comfort of their home or bathroom. If you think you may be pregnant, choose this product as an easy way to know for sure. Also, the First Response Pregnancy Test price is affordable for everyone to get it. This brand is considered to be the gold standard for home pregnancy testing by many parents and experts. This model is also sensitive enough to detect trace amounts of pregnancy hormones up to six days before a missed period. But according to our test results, the result can be more than 99% accurate if you use this test on the first day of your expected period. This First Response Early Detection test provides the user with two ways to read the results. After three minutes, the result window show one or two lines: one for a negative result and two for a positive result. You can download the EasyRead app and scan your pregnancy test if you want to see the words "pregnant" or "not pregnant". This application allows converting test lines into words to ensure better results. Please take a few minutes to read our First Response Pregnancy Test reviews to see more about this item.
How accurate is the First Response Early Result Pregnancy Test?
With that said, First Response's home pregnancy tests usually give very accurate results, most are over 99% accurate on the day of the missed period. And the First Response Early Result Pregnancy Test is no exception. So if you get a positive result on the test or see the word "pregnant" on the app, give yourself permission to celebrate a little early. In some cases, although very rare, false positives can still occur. It could be due to the effects of some fertility drugs that contain hCG that you are taking. So you should ask your doctor about the unexpected results of the medicine you take first. Furthermore, don't forget to check the expiry date of your pregnancy test before you take the urine test as an expired product can also lead to an erroneous reading.
As its name suggests, the First Response 6 Days Sooner pregnancy test is of high quality and sensitivity. With First-to-Detect technology, this First Response pregnancy test is sensitive enough to pick up small amounts of pregnancy hormones and then give you results 6 days earlier than your expected period. This product gives nearly 100% accurate results of pregnant women, one day before their missed period, which not all pregnancy tests can do.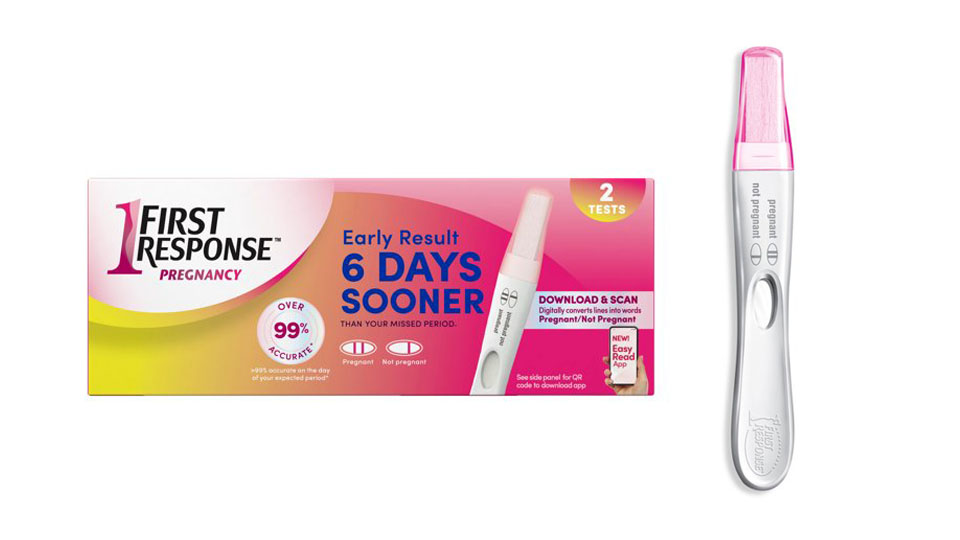 First Response Early Result Pregnancy Test Review By TopFreeReviews
How we read a First Response Early Result Pregnancy Test
The First Response Early Result Pregnancy Tests are designed to detect pregnancy hormone (hCG) as early as 6 days before your menstruation is missed. For example, if you expect to get your period on the 16th of every month, you can check as early as the 10th of the month to determine if you are pregnant. You can use a pregnancy test at any time of the day, but we recommend using it in the morning because your hCG levels are denser then.
To use a pregnancy test, you have to remove the cap to reveal the absorbent tip. Then you hold the First Response test by its thumb grip and make sure that the tip points downward and the result window faces away from your body. You place the tip of the stick in your urine stream for 5 seconds, or take a sample of your urine in a clean dry cup and dip the test strip in it for 5 seconds. Close the cap and place the pregnancy test strip on a flat surface with the results window facing up. Wait for 3 minutes until the results appear. This non-digital pregnancy test will show a vertical line if the result is negative. If it's positive, you'll see two vertical lines in the results window. It doesn't matter how dark or blurry the lines are, so don't worry. According to many First Response 6 Days Sooner reviews, this model is compatible with the free EasyRead App, which instantly scans and converts your pregnancy test lines into "Pregnant" or "Not Pregnant" results, respectively.