Fitbit Versa 2 Fitness Tracker
Advantage
Saves 7 days of detailed motion data – minute by minute
Water resistant to 50 meters
Stylishly-looking design
Durable battery performance: +6 days
Accurate heart rate tracking
Decently bright screen
Amazon Alexa Built-in
Fitbit Versa 2: A Smooth-Running Smartwatch For Fitness Tracking
The Fitbit Versa 2 makes its way into our list of best fitness trackers for many reasons. First, for a smartwatch whose purpose is to keep tabs on heart rate, sleep, steps, etc., it is incredibly stylish and very wearable with a comfortable silicone strap. In addition, its screen is packed with high resolution and amplified brightness to ensure excellent visibility. Moreover, this product is also water-resistant up to 50m, making the Fitbit Versa 2 waterproof an ideal choice for swimmers or those who often go swimming on summer days.
However, these are just outstanding features of this fitness-tracking smartwatch. Scroll down our Fitbit Versa 2 review for this product's specifications and discover the unlimited functions it offers.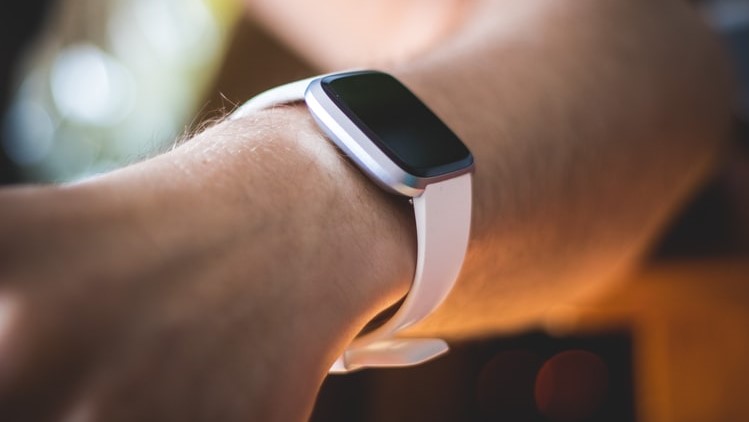 Fitbit Versa 2 Reviews By TopFreeReviews
Fitbit Versa 2 details and functions
Health supervisor
The principle purpose of any smartwatch is to keep track of health-related aspects such as heart rate, sleep quality, calorie burn, stress level, etc. And the Fitbit Versa 2 smartwatch can track all of them with undivided attention, from how many steps you take, how many calories you burn, how many hours you sleep, etc. From these aspects, the Fitbit Versa 2 will assess your sleep quality and your activeness, thus equipping you with a profound insight into your fitness level and health condition.
Other than these common indicators, the Fitbit Versa 2 tracker can even track Oxygen Saturation (SpO2)—the oxygen level in your blood—to timely alert you when there is any sudden change in your well-being. When connected with the Fitbit app, the SpO2 clock face allows you to track your average SpO2 level during the night and show you the overall SpO2 trends over the past week.
Some other aspects that can be tracked by the Fitbit Versa 2 include breathing rate, heart rate, resting heart rate, hydration rate, etc. All of these indicators will give you a reflection on your body condition, which helps you devise a suitable activity plan for a boost in your health and fitness.
Smart design
The Fitbit Versa 2 is equipped with the Always-On display mode for tremendous flexibility: You just have to glance at the watch when your hands are full. This highly advanced feature is of great help to those who frequently work out with dumbbells and other hand equipment.
Also, with the built-in Amazon Alexa, you can quickly check the weather, set timers, and control your home devices with your voice. However, you should note that the Amazon Alexa for the Fitbit Versa 2 isn't available in all countries, so if you want to have this feature, check fitbit.com/voice for further information.
Automatic Sync
The Fitbit Versa 2 will remember the connected devices and automatically sync to the most popular operating systems like iOs and Android. Once synced, the Fitbit Versa 2 will display your status, trends, and progress on your Fitbit dashboard so you can grasp your current fitness and health condition.
Durable battery
The duration of the battery depends on the different usages and other factors. If you turn on the Always-on Display Mode and the SpO2, the Fitbit Versa 2 tracker will run out of battery more quickly. However, its average battery cycle allows up to 6-day use without charging, saving you a lot of time and effort in charging the device. Even when you need to charge, the fast Fitbit Versa 2 charger enables the smartwatch to be fully charged within only 2 hours.
Notifications and Do Not Disturb Mode
Once you connect your smartphone to the Fitbit Versa 2, you can receive your smartphone's notifications right on the Fitbit Versa 2 smartwatch. If you don't want any distractions, feel free to turn on the Do Not Disturb Mode to mute call, text, or other app notifications during the day.
Do we recommend the Fitbit Versa 2?
The Fitbit Versa 2 is an ideal item for health-conscious people who love to take advantage of advanced technology to improve their health. The innovative and fashionable design packed with multiple features makes the Fitbit Versa 2 stand out among various fitness trackers and climb to our top picks for best must-have smartwatches. Have you decided whether this product is the perfect choice for you after our Fitbit Versa 2 review? We genuinely hope so.