iHealth Non-Contact Infrared Forehead Thermometer PT3
Advantage
High precision
Fast testing
Safe & hygienic
Silent alerts
Only 3 steps to test: Hold. Aim. Press
iHealth Non-Contact Infrared Forehead Thermometer PT3 - The Easiest Thermometer To Use For All Patients
What we like
We get the IHealth PT3 in a pretty standard box. This box has an image of the product on the front with the iHealth branding and a basic description printed on the top of the box. We quite like iHealth's trademark orange and white color because it makes it easy for customers to recognize iHealth PT3 products on shelves. In our opinion, the iHealth Forehead Thermometer is very clean and suitable for tech-aware users. We really like most of the key details shown on the box. One of the features of this thermometer that we love is that the iHealth Non-Contact Thermometer doesn't work with an app. We know that many techies will love that functionality, but for medical devices, we just want a device that's fast, easy to read, and the PT3 has that for us. We've used several other models paired with an app in previous tests. They can record the progression of fever/symptoms over an illness. However, sometimes you don't want to wait for the phone to go through the procedures of these thermometers. In fact, when your child is sick and just wants to rest, you certainly don't want to say, "Wait a minute, honey. The temperature measurement application is connecting." That's why we like the iHealth PT3. iHealth Thermometer provides an accurate temperature reading quickly without disturbing the patient.
Another feature that we quite like about the iHealth Forehead Thermometer is that it doesn't make an annoying beep when a reading is done. We just have to press the button and hold it until the thermometer vibrates. Then we read the temperature on the screen and end up taking the temperature here. The only thing we wish is that this thermometer manufacturer offers a rechargeable battery. We don't really like that after a certain period of use because the battery may be damaged. We wanted a rechargeable version that we could pair with the charging dock so that the iHealth Non-Contact Thermometer is always charged and ready to use for the next time and avoid unfortunate incidents in case of emergency.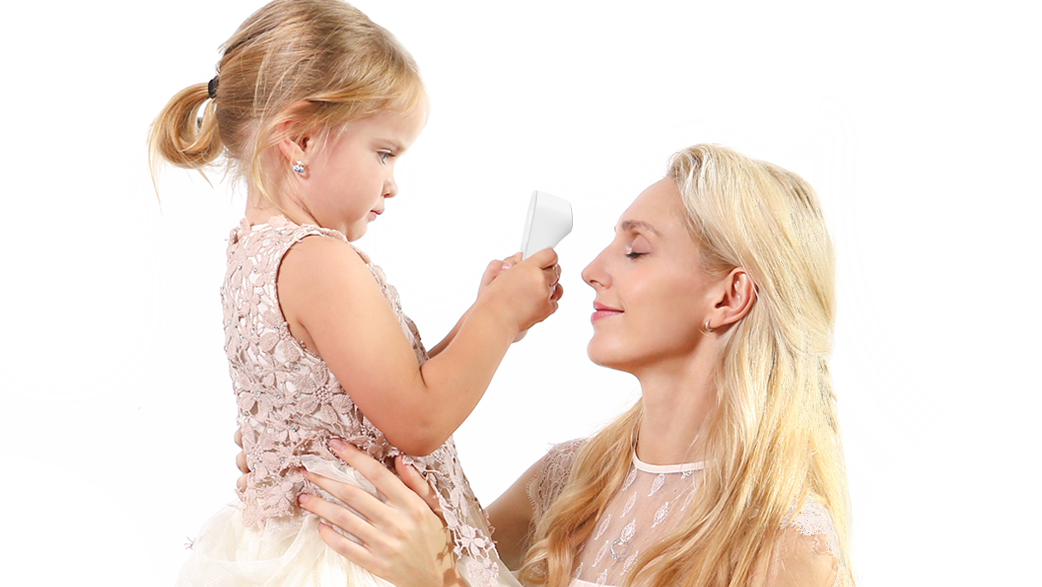 iHealth Non-Contact Infrared Forehead Thermometer PT3 Reviews By TopFreeReviews
How we tested
To test this product, a member of our test team used the iHealth Thermometer on himself when he had a sinus infection. He doesn't feel like he has a fever, except for a severe headache and his forehead is cool to the touch. When he took several PT3 temperature readings, he got the same number every time: 97.7º. He decided to compare with two other types of thermometers - digital oral thermometers and digital ear thermometers. As it turns out, each type of thermometer will give us a different reading. Each is under 99º and is classed as a mild sauce. However, no other thermometer could confirm the reading he received with the PT3. We're also not sure that's a fair comparison because all the thermometers we used during the test took the temperature in different parts of the body and in different ways.
Our advice
All ages can use this iHealth Non-Contact Thermometer without any problem. It only has a single button like the old model iPhone and users just need to press and hold it near the forehead and that's it. The iHealth Thermometer, as well as the For Fever Digital Medical Infrared Forehead Thermometer, display the temperature on the backlit display. We found the iHealth PT3 looks really great. When you hold the iHealth Non-Contact Thermometer, you will definitely feel like you are holding a premium thermometer. It seems that many people have never heard of this brand and are a bit skeptical before buying this brand. However, you should read the reviews of the iHealth Forehead Thermometer because most of the users give it positive reviews and it's true: the iHealth Thermometer is a great product. If you are looking for a thermometer, good for long-term use, we would definitely recommend trying the iHealth Non-Contact Thermometer. We hope iHealth Thermometer Review is useful to you!