Whirlpool 4.3 Cu. Ft. Cabrio HE Top Load Washer with Low Profile Impe WTW5000DW
Whirlpool 4.3 Cu. Ft. Cabrio HE Top Load Washer with Low Profile Impe WTW5000DW is a huge improvement over previous traditional washing machines
Smooth Wave Stainless Steel Wash Basket Presoak Option Deep Water Wash Cycle 4.3 Cu. Ft. Capacity Designed, Engineered and Assembled in the U.S.A. Manufacturer: Whirlpool Color: White Model: WTW5000DW Assembled Product Weight: 135 lb Assembled Product Dimensions (L x W x H): 28.00 x 28.00 x 42.00 Inches
Does shopping for a top-load washing machine stress you out? Don't know whether to choose a top or a front-load washer and tons of products out there confuse you? We know what that feels like, and to help you, we would like to introduce you to the Whirlpool 4.3 Cu Ft Top Load Washer. We went through the entire process of researching brand value, specifications, features, quality, durability, etc. to come up with Whirlpool 4.3 Top Load Washer Reviews. We also considered actual customer reviews and ratings to see how much they love this model.

The Whirlpool Top Load Washer WTW5000DW can give you more than you expect. Features such as the stainless steel wash basket, the Presoak option letting you skip the pre-soaking step, or the deep water wash, all aim to clean clothes or heavy loads and save energy for you. What's more, this top load washing machine can work to protect your clothes and fabrics from fraying and tearing. This model is also very durable, enough to stick with you for a decade if you don't have a need to replace or update the product with new technology.
GENERAL ELECTRIC GTW330ASKWW 27 Top Load Washer
GENERAL ELECTRIC GTW330ASKWW 27 Top Load Washer not only clean your garments and heavy loads, but also save you money and energy
3.8 Cu. Ft. Capacity with 700 RPM Deep Rinse A stainless steel basket Rotary electronic controls with cycle status lights 11 Wash Cycles 6 Temperatures Heavy-duty Agitator Rotates Your Laundry For A Thorough Clean Dimensions (WHD): 27" X 38 11/16" X 29 3/4" Fabric Softener Dispenser Color: White Model: GTW330ASKWW Assembled Product Weight: 138 lbs
General Electric, also known as GE, is one of the largest home appliance brands in the US and was founded more than 100 years ago. With a wealth of experience and history, GE has always strived to create superior products to serve millions of homes around the world. Their innovations in large capacity washing machines also contribute significantly in cleaning clothes as well as protecting fabrics from tearing and fraying. If you're considering swapping out a washing machine for your home or retrofitting products to open a laundromat, GE washing machine or specifically GE® 3.8 Cu.Ft. Capacity Washer With Stainless Steel Basket is an ideal and affordable option.

The model of this General Electric top load washer is GTW330ASKWW and it is packed with many great features. Many people comment that this is the best large capacity top load washer with agitator from this big company but its price is reasonable. They have tweaked and offered the option of a heavy duty washing machine with a center agitator, a stainless steel wash basket, 11 wash cycles, and 6 temperatures. For those curious about energy efficiency, you can rest assured that this is an economical option that won't add up to your electricity bill by much compared to traditional options.
Maytag MVWC465HW - Washing machine
Maytag MVWC465HW - Washing machine with agitator is increasingly known as among the ultimate top load washers
Large capacity, 3.8 cu. ft 770 rpm Ample space to tackle big, hamper-sized loads PowerWash agitator Tackle any load size with both efficient, concentrated cleaning to fight stubborn stains Robust wash action to help break up messesRobust wash action to help break up messes Deep rinse option Thoroughly clean clothes and rinse away excess detergent and fabric softener with the deep rinse option Stainless-steel wash basket Brand: Maytag Color: White Model: MVWC465HW
Get yourself a Maytag Large Capacity Top Load Washer With The Deep Fill Option MVWC465HW to make cleaning clothes much easier. Not only that, this appliance makes your clothes cleaner, washes faster, uses less electricity and makes less noise. Unlike front load washers, the Maytag 3.8 Cu. Ft. top load washer MVWC465HW does not require you to bend your knees to put clothes in or take them out of the machine. It has a large load size with a PowerWash agitator that is suitable for large loads of clothes. Either way, Maytag always offers great and modern choices for the family.

Have you ever put clothes or heavy loads in the washing machine and then sit back to watch something on TV or your phone? And you are so absorbed in watching a movie that you forget you put your laundry in the washing machine and had to take it out to dry? That happened to us. But with Maytag top load washer with agitator, we now don't have to worry about whether it can clean our comforter. It has great power, runs quietly, and the control buttons are easy to understand so we get a good job cleaning our garments. The spin cycle is also quite fast and removes as much excess water as possible, saving drying time and better protecting the clothes. We once forgot to take our clothes out after washing but they didn't smell like we thought they would. All in all, this washing machine has a lot of outstanding features, read our Maytag washer MVWC465HW reviews to know more about the capacity and cleaning efficiency of this tool.
GE GTW840CPNDG 5.2 Cu.Ft. Diamond Gray Top Load Electric Washer
GE GTW840CPNDG 5.2 Cu.Ft. Diamond Gray Top Load Electric Washer has built-in WiFi feature to help you control laundry from anywhere
5.2 Cu.Ft. capacity 10 Wash Cycles 5 Wash Options 6 Temperatures Stainless Steel Tub SmartDispense Technology Power Prewash Water Station Built-in Wifi QuietWash Speed wash Digital touch controls Deep Fill- Multiple rinse options 10-year Warranty Sanitize with Oxi- ENERGY STAR Qualified Color: Diamond Gray Manufacturer Part Number/Model: GTW840CPNDG Manufacturer: GE Assembled Product Dimensions (L x W x H): 48.00 x 29.00 x 29.00 Inches
You and your wife are planning to replace your "old" washing machine with a new and more modern one. You have been looking for a smart washing machine with many exceptional features for many months but have not found an excellent model. Read our GE 5.2 top load washer reviews and see if it's right for you. We spent two months testing a wide range of top load washing machines from different brands and finally found the GE GTW840CPNDG model - one of the best buy GE top load washers.

GE GTW840CPNDG 5.2 Cu.Ft. Diamond Gray Top Load Electric Washer has new technological advancements in washing machines, and we bet you will be amazed with this one. There are many online GE GTW840CPNDG reviews sharing that they are surprised with the built-in WiFi feature of GE's special large-capacity washing machine. This allows you to control the appliance and receive notifications anywhere as long as you have an internet connection. It's great when you're not in the house but still know if the washing machine is running or the wash cycle has ended. Our favorite option is that it operates quietly. The company says it applies dynamic balancing technology so that the washer can run quietly and with less vibration even when washing heavy loads. In short, this washing machine has a large capacity, special features, and a sleek design with diamond gray color. Don't waste your time shopping around and try the GE Washer GTW840CPNDG, it will not let you down.
Best Top-Load Washers Reviews: How To Buy A Top-Load Washing Machine
How to choose a top-load washer
These days, it's hard to figure out which one you need because there are so many best high efficiency top load washers on the market. However, even if you feel like the choices are endless, there are plenty of specific features to make it easy for you to find. The first thing we looked at was how easy of use a top load washing machine is. Unlike front-loading washers, you won't have to bend over or kneel when putting clothes in or taking them out of the machine when using the top-loading washing machine. Although, with some high capacity products, you may need a chair to reach the bottom of the basket if you are short in height. But that's not a big deal because we all have a solution. Most importantly, the top-loading washers on our list are all very easy to use and offer quiet wash. Even Whirlpool 4.3 Cu. Ft. The Cabrio HE Top Load Washer WTW5000DW also shortens the washing process as we can skip the step of soaking clothes or heavy loads before putting them in the washing machine.
The best washing machine for heavy loads on our list comes with an impeller or agitator and some have no, but they all work well. The best top load washing machine with impeller or agitator supports rotating the washing tub to remove stubborn, sturdy stains on clothes. If you look inside the washing machine and see a cone in the middle of the drum, that's the agitator. The impellers are mounted at the bottom of the drum, and they operate quietly, not making any noise. Depending on your preference, you can choose the best large capacity top load washer with agitators or the propeller ones.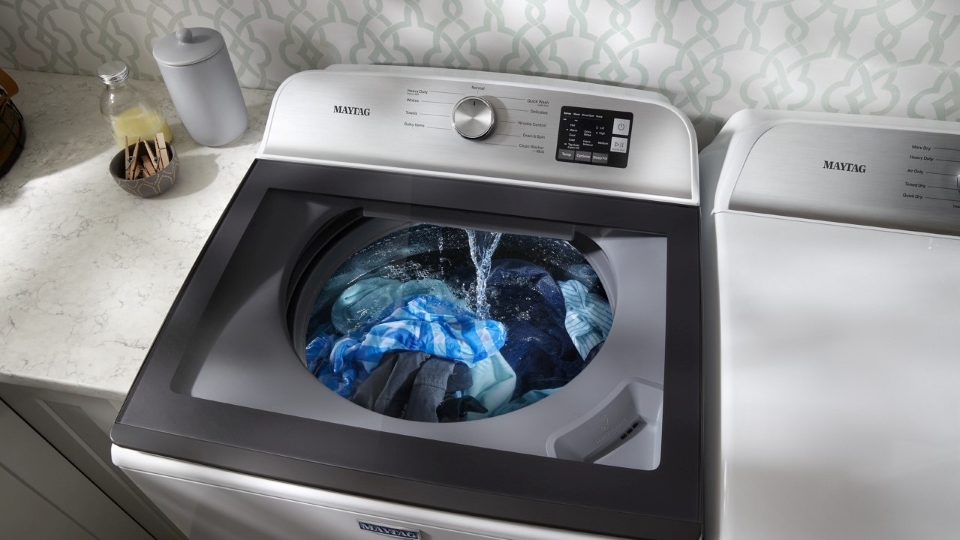 Best Top-Load Washers Reviews By TopFreeReviews
We continually checked the dimensions of these devices, especially the size of the drum. We put our Queen size comforters in each washing machine to see if they could clean such heavy loads. And the above products all meet the requirements. The drum size is usually measured in cubic feet (cu.ft.). You can see the specifications or product details on the company's website or ask the seller directly to choose the best type.
Are top load washing machines faster?
Many people find that top load washing machines can clean much faster than other traditional products. With the advance in technology, capacity, size, this product can clean in as little as 30 minutes. This saves water and energy that the appliance needs to clean large loads. Besides, the best top-load washers are easy to clean. We advise you to clean the drum periodically and rinse the built-in components to remove any dirt, moving water, or residual detergent to avoid smelly mold and mildew.
After experiencing dozens of washing machines, we checked their performance, functionality, and practical usefulness when recommending the best top-loading washers on the market. We looked at the capacity, type of agitator and impeller for each model, and drum quality, to give you the best top load washer reviews. And when choosing a large-capacity washing machine, you do not forget to measure your space to see if it can fit this appliance. Hope you find the best top load washing machine for yourself.