Razor Miniature Dirt Rocket MX125 Electric-Powered Dirt Bike
Advantage
Good size for very young children
Offer the adrenaline pumping fun of off-road riding in a scaled-down
Greater safety and stability
Short battery recharge time
Power riders up to 8mph 13km-h for up to 40 minutes of continuous use
Easy to transport
Razor Miniature Dirt Rocket MX125 Electric-Powered Dirt Bike - Great Size For Very Small & Young Riders
Are you interested in Razor Motorbike Dirt Rocket MX125? You are wondering if the Razor electric bike is good for your child. In fact, when it comes to affordable high-performance electric motorcycle toys, Razor has done a great job. In our Razor Miniature Dirt Rocket MX125 Electric-Powered Dirt Bike Reviews, we'll help you take a close look at these models so you can be sure whether to buy them for your kid or not. We've tested them ourselves, including features, batteries, and other details to make sure you won't regret buying Razor electric motorbikes. These dirt bikes are one of the ideal products to boost children's confidence, skills, and above all excitement. Just like adults riding bikes, today's kids can enjoy the same fun and thrills depending on their age with an off-road motorcycle. Electric motorbikes for kids and teens are cheaper than conventional vehicles and they can be a great alternative to introduce your kids to the sport.
Why buy a Razor Dirt Rocket MX125?
Razor is a big and trusted name in electric vehicles. When you buy a Razor Miniature Dirt Rocket MX125 Electric-Powered Dirt Bike, you are getting a good quality dirt motorbike at a very reasonable price. Of course, there are many options with diverse designs out there, but not every unit can guarantee the safety of your little ones. Razor's range of electric motorcycles will let your child experience safe speeds as well as the smoothest and most comfortable journeys possible.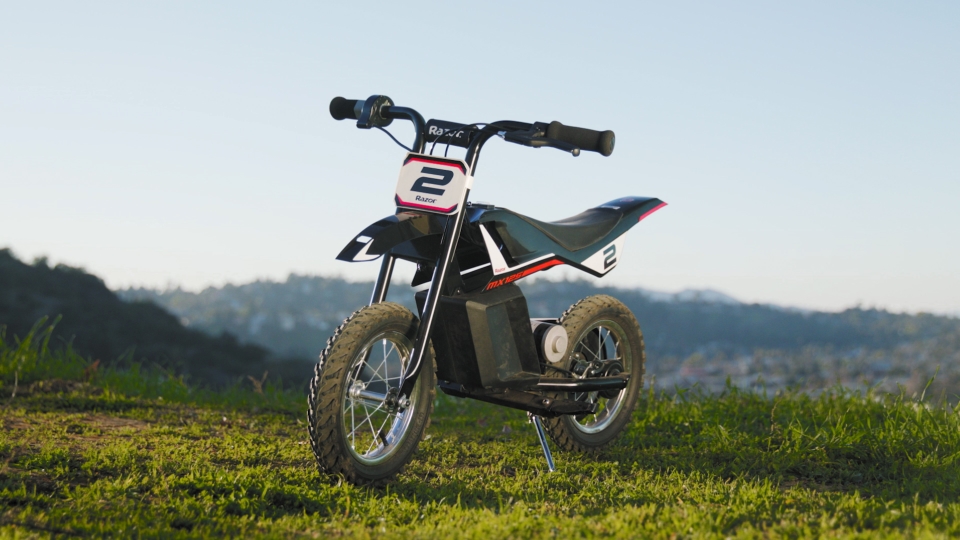 Razor Miniature Dirt Rocket MX125 Electric-Powered Dirt Bike Review By TopFreeReviews
We recommend purchasing an electric motorcycle from Razor as they are easy to operate with very low maintenance. Especially when compared to fuel-powered vehicles, this electric motorcycle is extremely economical and a way to protect the environment. When buying a vehicle, you also need to consider the age and weight of the rider to choose the most appropriate one. Razor Motorbike Dirt Rocket MX125 has a compact design, extremely suitable for children aged 7 and up. And Razor MX 125 weight limit is 110 lb (54 kg), don't skip this as it is one of the most important things to keep your kid feel comfortable when riding. This bike is also suitable for beginners to test-drive electric motorcycles and it brings fun when conquering difficult terrains. Don't underestimate the ability of this small vehicle. Equipped with the standard features that an electric off-road motorcycle should have, the MX125 can run at 8mph (13km-h) for 40 minutes continuously. In short, this is Razor's smallest and lightest dirt bike and the best choice for young riders.
Razor Miniature Dirt Rocket MX125 Electric Motorbike delivers better control, performance, and stability
There are many Razor Miniature Dirt Rocket MX125 Electric-Powered Dirt Bike Reviews out there saying that the Razor MX125 is the best choice for kids and teenagers. We were also quite curious so we bought to try it out and it's really as good as people said. Our son Edison really likes this vehicle because he can use it even on the road. The boy got really excited as he rode it around the house and in the yard. The electric motorbike can go 8 miles per hour, but he wishes it would go a little faster. However, we think that speed is reasonable and enough for him to have good control. Specially designed with motocross-bike shape, equipped with spiked tires and twist throttle, you can easily control the electric vehicle and conquer difficult roads. Since it has rear-wheel drive and hand-operated brake, balancing, controlling as well as stabilizing our son became a lot easier than with other models. It is wonderful to see the smile on our son's face and he feels proud of himself. He no longer wants to ride his normal bike.