Razor RSF650 36V Electric Sport Motor Bike
Advantage
Ideal for teens
Deliver both unique style and performance to indulge your need for speed
Adjustable riser handlebars
Realistic street bike design with steel trellis frame
Safety with powerful dual disc brakes and rear shock suspension
Razor RSF650 36V Electric Sport Motor Bike - Must Thing To Look At When Buying Razor Motorbikes
According to Razor RSF650 36V Electric Sport Motorbike Reviews, this model has faster capacity and speed than some other products of the same manufacturer. If you are a parent who does not like noisy engines, surely the Razor RSF650 will not disappoint you. Feel free to let your child experience without worrying about disturbing the neighbors.
The first thing to consider: Engine
We always check the engine first when considering any model or off-road motorcycle. This vehicle's 650W motor is powered by 3 12V batteries sealed lead acid. Also, the Razor RSF650 36V Electric Sport Motorbike battery is rechargeable. The vehicle can reach speeds of up to 17 mph (27 km/h) and operate for 50 consecutive minutes. Normally, electric bicycles and electric scooters for kids have 24V battery packs and need to wait for 12-14 hours to fully charge the battery. But Razor RSF650's battery only needs about 8 hours to provide enough power for your children's trips. Please read the manual carefully and charge the battery in advance to ensure that the vehicle and battery are always maintained in the best condition. This way, your child can practice patience and learn responsible ways to protect their belongings. During the first 3 times of charging, we tried to fully charge the battery so that the motorbike can perform to its full potential. What's more, the Razor electric motorbike uses high torque, chain drive, and a high-quality braking system that allows users to operate safely and comfortably to control on the street.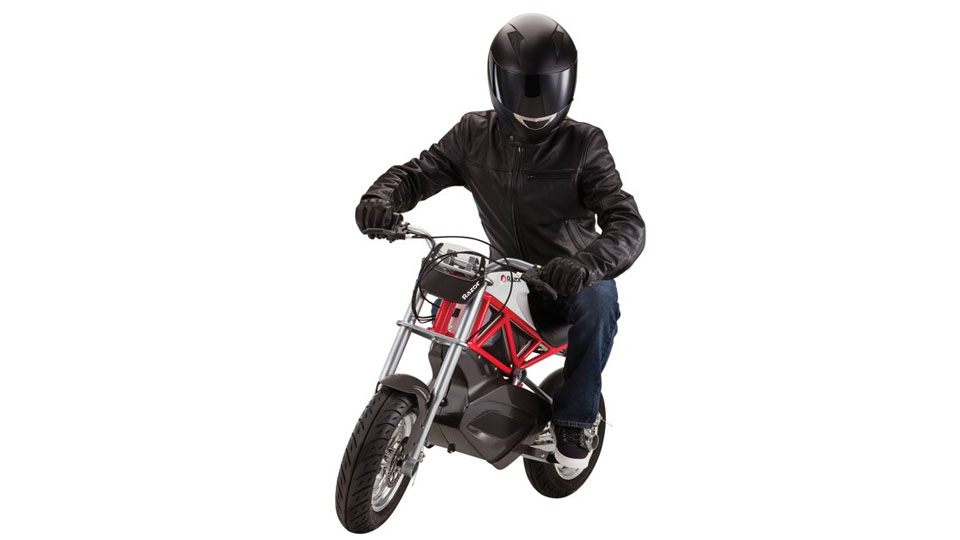 Razor RSF650 36V Electric Sport Motor Bike Review By TopFreeReviews
Everyone loves Razor RSF650 36V Electric Sport Motor Bike
It won't be unusual for the kids to start asking about new bikes or skateboards when summer arrives. Nowadays, instead of buying traditional vehicles, parents choose to buy Razor RSF650 electric motorcycles because they are quite modern and safe. These options are compact and designed for children over 16 years old. We bought a Razor electric street bike with a bright red steel frame and a fairly long and comfortable saddle. It gives young riders the feeling that they are driving real vehicles but still ensures safety. We tested the vehicle's braking system with hand-operated and dual disc brakes, providing excellent balance for shifting and adjusting speed. The disc brake system is also designed in wet conditions, it is a wonderful supplement for this model.
Don't ignore tires and wheels if you want the electric motorcycles to be a long-term companion for your kids. The tires of these Razor motorbikes are pneumatic with tires in road mode. Make sure the tires are always filled capacity so that young riders can better control the vehicle. You can customize the tires easily with a bike pump to fit your needs. Meanwhile, the wheels are custom 12" and have 10-spoke mag wheels, providing an interesting feeling on both wheels. The spokes will work to distribute impact and relieve pressure coming from the frame. According to the Razor RSF650 reviews, users like this product because the setup process is also quite easy. As long as you follow the brief and clear instructions the company provides, it shouldn't take much of your time. The installation will include manually attaching the front fork, filling the tires, and screwing the windshield, mud-guard as well. When buying electric motorcycles from a well-known brand, we found an advantage is that we can buy replacement parts and install them yourself easily.
Our verdict
The Razor RSF650 36V Electric Sport Motor Bike is every teen's dream, offering an engaging, street racing experience. The vehicle with its sleek looks and controllable speed will make the whole neighborhood jealous of your kids. The Razor RSF650 is aimed at youth users 16 years of age and older. It has a chain-driven, high-power motor that can achieve the fast speeds you desire. So why choose Razor RSF650 and start conquering your dreams? It is specially built and designed as a street bike, not a dirt bike. If you are in need of learning about this car, do not miss our Razor RSF650 36V Electric Sport Motorbike Review.